Workup
Laboratory Studies
Imaging studies are the primary tools used to confirm a vertebrobasilar atherothrombotic disease (VBATD) diagnosis. They also help exclude differential diagnoses that would preclude such therapies as anticoagulants. Ancillary evaluations, however, are important in the search for other conditions whose signs and symptoms overlap VBATD's complex clinical syndrome. These include the following:
Erythrocyte sedimentation rate (ESR)

Venereal disease research labs (VDRL) test
Imaging Studies
CT scan
CT scanning in vertebrobasilar atherothrombotic disease (VBATD) helps rule out CNS hemorrhage or mass effect secondary to cerebellar infarction. However, CT is not a good choice for detecting brainstem infarctions because of bony interference.
CT scanning can also demonstrate a hyperdense basilar artery sign, shown in the image below, in the setting of a suspected posterior circulation stroke. [2] This finding is highly specific but only moderately sensitive. It is also associated with a poor prognosis.

Hyperdense basilar artery (arrow).
MRI
MRI is far superior to CT for brainstem and posterior fossa imaging. [29] MRI is more sensitive to small ischemic areas that characterize branch occlusion of the vertebrobasilar circulation. As a result MR is the imaging method of choice for patients with posterior circulation ischemia.
Multimodal MRI can provide unique information about the extent and prognosis of smaller infarcts and demonstrate tissue at risk in the ischemic penumbra.
For imaging patients with uncomplicated VBATD, the American Heart Association recommends MRI in addition to or instead of CT scanning and duplex ultrasonography of the carotid vessels to search for surgically amenable stenoses. [4]
Contrast-enhanced magnetic resonance angiography (CE-MRA) and computed tomography angiography (CTA)
These may be as good as cerebral angiography for detecting occlusions and stenoses of the vertebrobasilar circulation, but may not be as good for quantifying degree of stenosis. When comparing CE-MRA and CTA for detection of vertebrobasilar circulation stenosis, both have a high sensitivity and specificity, although CTA is perhaps slightly less than CE-MRA. [31] MRA and angiography images are shown below.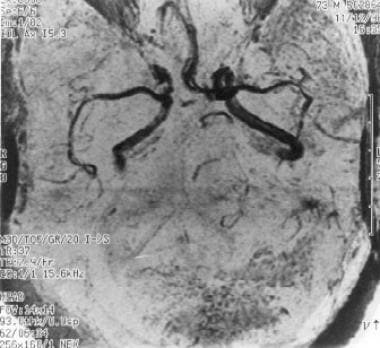 Magnetic resonance angiography demonstrating the absence of flow in the vertebrobasilar system.
Doppler ultrasound
Doppler ultrasound (duplex ultrasonography) may complement MRA and provide important hemodynamic data on degree of vertebrobasilar stenosis. [3] Specifically, it is widely used to identify carotid stenosis, but is much less sensitive in the detection of vertebral artery stenosis. [27]
Transcranial Doppler helps assess and monitor vertebrobasilar patency in patients who have received intra-arterial thrombolysis.
Chest radiography
This may be indicated to rule out conditions whose signs and symptoms are similar to those of VBATD.
Other Tests
ECG may be indicated to rule out conditions whose signs and symptoms are similar to those of vertebrobasilar atherothrombotic disease (VBATD).
Procedures
What would you like to print?