Presentation
History
Patients usually complain of a localized painful swelling on one eyelid.
In some cases, the complaint may start as a generalized edema and erythema of the lid that later becomes localized.
A history of similar problems is common.
Constitutional signs and symptoms are inconsistent with a hordeolum diagnosis. In extreme cases, the infection can spread to involve the entire lid and even the periorbital tissues. Such cases do not respond to normal hordeolum management and must be managed as periorbital cellulitis.
Physical
Completely examine the area around the orbit, the eye, and the conjunctival surface. Carefully inspect the underside of the eyelid to avoid missing an internal hordeolum.
Examination reveals a localized tender area of swelling with a pointing eruption either on the internal or on the external side of eyelid. See the images below.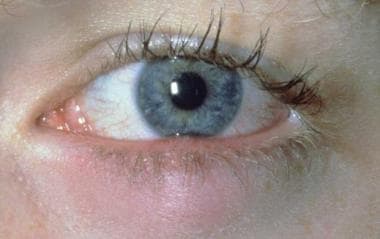 Hordeolum pointing internally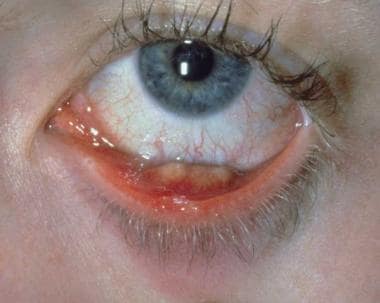 Internal side of the same hordeolum
Occasionally, the hordeolum points on both sides.
Infection of conjunctiva is a common secondary finding.
Examination of preauricular nodes can help to identify spread of the disease beyond a simple hordeolum. Nodes should not be swollen in patients with a simple hordeolum.
No intraocular pathology should be found.
Presence of fever or distant nodes indicates systemic disease.
Causes
Staphylococcal organisms are the most common causes of eyelid infections, but other organisms may be involved.
Hordeola are found more frequently in persons who have the following:
Other debilitating illness

High serum lipids (High lipid levels increase the blockage rate of sebaceous glands, but lowering of serum lipid levels in these patients has not decreased frequency of recurrence.)
What would you like to print?