Periprocedural Care
Equipment
Equipment and materials used in anoscopy include the following:
Lubricating jelly or lidocaine jelly (see the first image below)

Sterile or nonsterile gloves

Paper towels or tissue paper

Disposable sheet

Light source (if not already built into the anoscope)

Anoscope (see the second, third, fourth, and fifth images below)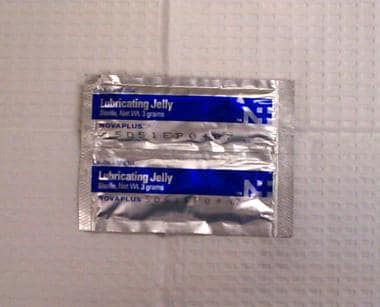 Standard lubricating jelly.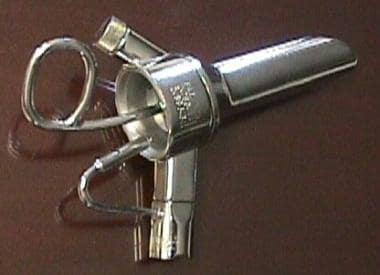 Stainless steel anoscope. Image courtesy of Welch Allyn.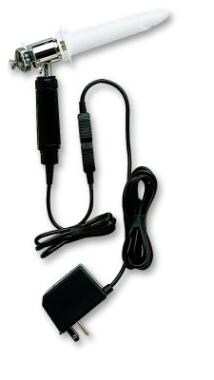 Disposable anoscope with integrated light source. Image courtesy of Welch Allyn.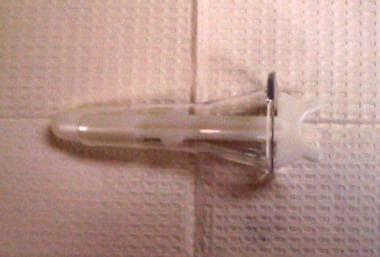 Plastic disposable anoscope with obturator in place.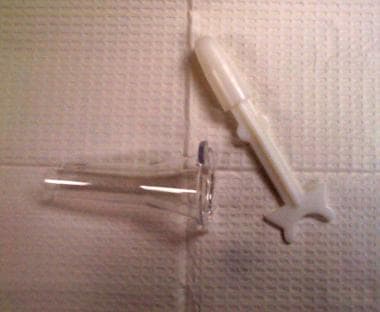 Plastic disposable anoscope with obturator removed.
Patient Preparation
Anesthesia
Most patients do not require analgesia for anoscopy.
Topical anesthesia is administered, with 2% lidocaine jelly inserted into the anal canal at least 10 minutes before insertion of the anoscope. If necessary, intravenous (IV) medications such as opiates (eg, morphine sulfate) or benzodiazepines (eg, lorazepam, diazepam, midazolam) may be administered for analgesia and light sedation.
In some situations, it may be reasonable to consider IV procedural sedation via local protocol with agents such as fentanyl, midazolam, propofol, ketamine, or etomidate. Such situations include the following:
The patient could not tolerate anoscopy despite topical medication and administration of initial IV medications

Initial attempts at foreign-body removal with medication as described above were not successful, and further attempts are indicated in the current venue
For complicated cases in which the anatomy is distorted, the patient cannot tolerate the procedure, or the attempt at foreign-body removal was unsuccessful, referral to a specialist for an examination under anesthesia or admission to the hospital is indicated.
Positioning
The patient can be placed in various positions to facilitate insertion of the anoscope. The most common position is the lateral decubitus position with the contralateral (top) leg flexed at the knee and the hip. The patient may also be placed in the knee-shoulder position or the prone position.
What would you like to print?