Periprocedural Care
Equipment
Equipment used for ankle arthrocentesis includes the following:
Sterile gloves and drapes

Gauze pads (5), 4 × 4 in.

Skin preparatory solution

Lidocaine 1%

Syringe, 5 mL

Needles, 18 gauge and 25 or 27 gauge

Syringes, 20 mL, 30 mL, 60 mL

Needle, 18 gauge or 20 gauge (a patient who is morbidly obese might require a 21-gauge spinal needle for arthrocentesis)

Hemostat

Specimen tubes

Bandage
Patient Preparation
Anesthesia
Patients who are anxious, in severe pain, or unable to cooperate with the procedure might require procedural sedation and/or analgesia. For more information, see Procedural Sedation.
Local anesthesia is warranted. After skin preparation, draping, and identification of the needle insertion site, use a 25- or 27-gauge needle to inject 2-5 mL of local anesthetic (eg, lidocaine 1%) into the subcutaneous tissue. (See the image below.) For more information, see Local Anesthetic Agents, Infiltrative Administration.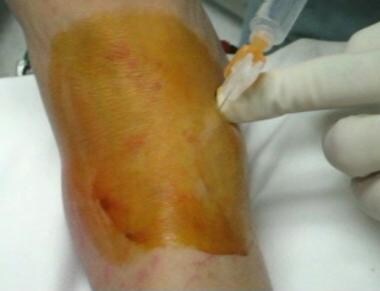 Infiltration of local anesthetic.
Deep injections that might enter the joint space are not recommended, because they may alter the synovial fluid analysis results.
Positioning
The patient should be placed either sitting or supine on a stretcher, with the knee flexed at 90º and the leg either hanging from the side of the stretcher or bent with the heel resting against the stretcher.
Plantarflexion of the ankle against minimal ankle dorsiflexion by the patient helps define the anatomy.
What would you like to print?