Technique
Aspiration of Synovial Fluid From Shoulder
Steps in the performance of shoulder arthrocentesis are as follows:
Obtain informed consent

Palpate and mark the needle insertion site according to the approach chosen (see below)

Sterilize the skin surrounding the insertion site, and allow it to dry

Administer local anesthetic with a 25-gauge needle and a 3- or 5-mL syringe

Insert an 18-gauge needle, and aspirate on needle advancement into the joint space until synovial fluid is obtained

If injection is warranted, exchange the syringe for a corticosteroid-filled syringe and inject

Remove the needle, and apply pressure and a bandage

Divide the fluid among the specimen tubes
Needle placement accuracy rates appear to be significantly higher for the posterior approach to the glenohumeral joint than for the anterior approach. [4]
Accuracy rates are also higher when imaging is used in conjunction with injection and aspiration. In a randomized trial comparing ultrasound (US)-guided with blind steroid injection in patients with adhesive capsulitis of the shoulder, Raeissadat et al found that US-guided injections yielded improved accuracy, pain relief, range of motion, and function; however, these improvements were not statistically significant. [5] In addition, the use of ultrasonographic guidance was associated with higher cost and was more time-consuming.
Anterior approach
Palpate the coracoid process and the humeral head. As the arm is internally rotated, the joint space can be felt as a groove lateral to the coracoid process (see the image below). [6]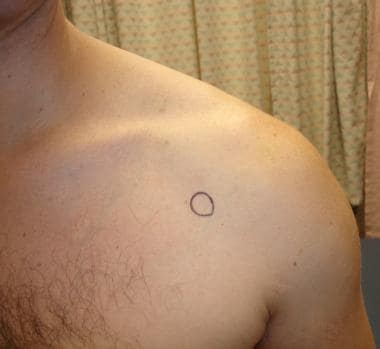 Circle represents coracoid process.
Insert the needle medial to the head of the humerus and just below the tip of the coracoid process (see the image below).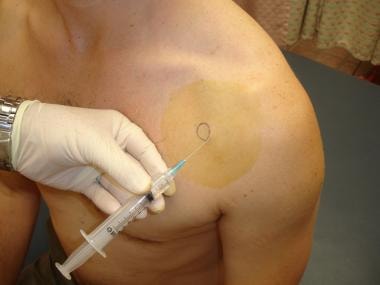 Shoulder arthrocentesis. Insert needle medial to head of humerus and just below tip of coracoid process.
Direct the needle slightly laterally and superiorly into the scapulohumeral joint space (see the image below). [7]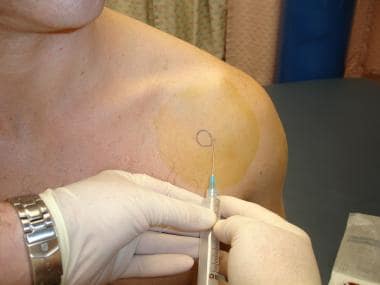 Shoulder arthrocentesis. Direct needle slightly laterally and superiorly.
Posterior approach
Insert the needle 1-2 cm inferior and medial to the posterior tip of the acromion. Direct the needle anteriorly and medially toward the coracoid. [8]
Complications
Complications are uncommon and often insignificant but include the following:
Hematoma and intravascular injection are possible because of the close proximity of the axillary vessels

Iatrogenic infection is possible; the risk of inducing joint infection is low when sterile technique is used

Injection of corticosteroids directly into a tendon or tendon insertion can sometimes result in tendon rupture

Corticosteroids may cause a transient rise in blood glucose levels in patients with

diabetes mellitus
What would you like to print?