Technique
Aspiration of Wrist Joint
Insert the needle dorsally just distal to the radius and just ulnar to the anatomic snuff box. Avoid the associated tendons (extensor carpi radialis brevis and extensor pollicis longus). Direct the needle perpendicular to the skin. If bone is hit, pull the needle back and redirect it slightly toward the thumb.
With the proper technique, the needle passes freely through the extra-articular tissues, and a "pop" is felt as the needle enters the joint. The ease with which the fluid can be withdrawn depends on the size of the needle, the viscosity of the fluid, the degree of effusion, and the presence of any fibrin clots. (See the images below.)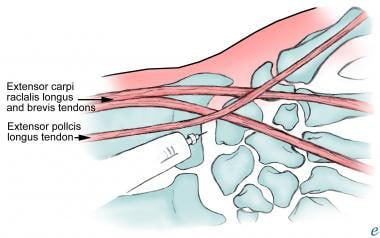 Injection of wrist joint.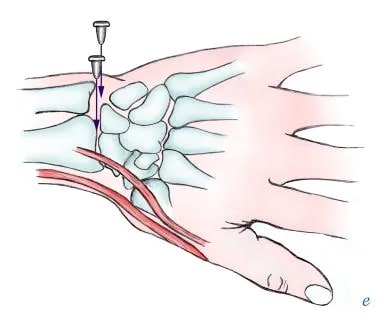 Arthrocentesis of wrist: medial and lateral approaches.
Free flow of fluid is often suddenly interrupted when the needle end is clogged by synovial membrane or debris. Rotating the needle, withdrawing it slightly, or even reinjecting a little of the fluid often helps unclog the needle and allows additional fluid to be withdrawn.
A 22- to 25-gauge needle, 1.25-2.5 cm long, is usually adequate. In some cases, a 20-gauge or even an 18-gauge needle may be advisable (see Equipment). Occasionally, as much as 3-5 mL of fluid may be obtained from the wrist by aspiration, and, if indicated, 0.5 mL of steroid may be injected into the space.
At the end of any injection procedure, the needle should be swiftly withdrawn, and light pressure should be put on the needle site in the skin.
Bedside ultrasonography (US) may be useful as an adjunct for joint aspiration by helping to localize the optimal site for needle placement. [13, 14] US may also help differentiate joint effusion from periarticular disease. Fluoroscopy has been used to localize the needle placement site as well. [15]
Complications
Surprisingly few complications arise as results of arthrocentesis and corticosteroid injections into the wrist joint.
The most significant issue is the risk of infection. Care must always be taken to use sterile technique. Corticosteroids are contraindicated in patients with septic arthritis. The estimated risk of septic arthritis following aspiration or corticosteroid injection is estimated to be between 1 in 2000 and 1 in 15,000 procedures.
Other complications can arise from misplaced injections. The best-described complication is tendon rupture following corticosteroid injections for tendinitis. The risk of this complication can be minimized by avoiding injection into the tendon itself. No therapeutic agent should be injected against any unexpected resistance. Occasionally, nerve damage can also result from a misplaced injection (eg, median nerve atrophy following attempted injections for carpal tunnel syndrome).
What would you like to print?