Overview
Background
Splints are primarily used to stabilize injuries to bones until the patient can be evaluated by a consultant, such as an orthopedic surgeon, [1] as well as to achieve immobilization for primary healing or in the preoperative period. All patients with injuries that are splinted should be referred for evaluation by a consultant in a timely fashion (usually within 2-3 days). In general, ankle splints are applied to minimize movement and provide support and comfort by stabilizing an injury at that joint.
Indications
A posterior ankle splint is primarily used for the following injuries:
Contraindications
No contraindications to ankle splinting are absolute. The following conditions demand immediate evaluation or intervention by a consultant (eg, an orthopedic surgeon), in that treatment by splinting alone is inadequate:
Complicated fracture

Open fractures

Injuries with associated neurovascular compromise
Technical Considerations
Anatomy
The ankle joint is a hinged synovial joint with primarily up-and-down movement (plantar flexion and dorsiflexion). However, when the ranges of motion (ROMs) of the ankle and subtalar joints (talocalcaneal and talocalcaneonavicular) are taken together, the complex functions as a universal joint (see the image below).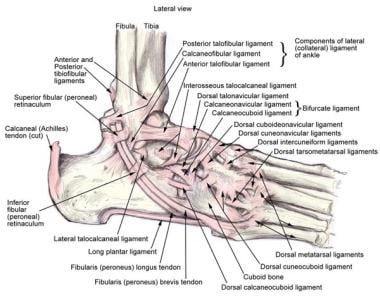 Anatomy of the lateral ankle ligamentous complex and related structures.
The combined movement in the dorsiflexion and plantarflexion directions is greater than 100°; bone-on-bone abutment beyond this range protects the anterior and posterior ankle capsular ligaments from injury. The anterior and posterior ankle capsular ligaments are relatively thin compared with the medial and lateral ankle ligaments.
For more information about the relevant anatomy, see Ankle Joint Anatomy.
What would you like to print?