Periprocedural Care
Equipment
The equipment involved in ankle splinting includes the following (see the image below):
Stockinette

Padding (eg, Webril)

Ready-made plaster or fiberglass splinting material or plaster splinting material (eg, plaster of Paris), 10-12 sheets (15-20 sheets if the patient is allowed to bear partial weight), 4-6 in. (10-15 cm) wide

Bandage or wrap (eg, Bias bandage or ACE wrap), 3-4 in. (7.5-10 cm) wide

Clean room-temperature water in a basin

Trauma shears or a pair of medical scissors without pointed ends

Disposable (Chux) pads and bed sheet

Tape (if using Bias bandage) or bandage clips (if using non-Velcro ACE wrap)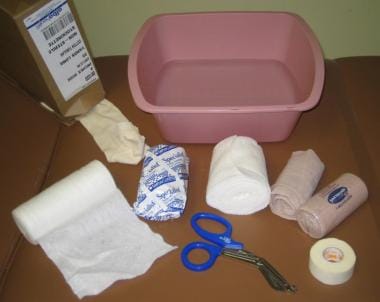 Equipment for splint. Image courtesy of Kenneth R Chuang, MD.
Patient Preparation
Anesthesia
Ankle splinting is usually tolerated without the use of anesthesia. However, if significant manipulation or reduction of the injury is required during the splinting process, one of the following anesthetic techniques may be used [3] :
Procedural sedation with appropriate monitoring and administration by an experienced practitioner

[4]

(for more information, see

Procedural Sedation

)

Oral or intravenous (IV) analgesics (eg, nonsteroidal anti-inflammatory drugs [NSAIDS], opioids)
With the administration of any analgesic agent or the initiation of a formal sedation protocol, care should be taken to avoid oversedation. A complete neurovascular examination should be performed before and after the splint has been applied.
Positioning
Place the patient comfortably in the prone position, with the affected limb in 90° of knee flexion (see the video below). Cover the patient with a sheet to avoid splatter from the wet plaster.
Position the patient prone, with knee flexed to 90 degrees. Cover the patient appropriately. Video courtesy of Kenneth R Chuang, MD.
What would you like to print?