Treatment
Prehospital Care
Provide oxygen and advanced airway management in patients with diabetic ketoacidosis (DKA), if needed. [12]
Monitor the patient.
Provide isotonic intravenous fluids (eg, isotonic sodium chloride solution or lactated Ringer solution).
Perform fingerstick glucose testing.
Consider empiric naloxone if altered mental status is present.
Emergency Department Care
Multiple goals are noted for the acute treatment of diabetic ketoacidosis (DKA), including volume resuscitation, identification and treatment of the precipitant event, insulin therapy, hourly monitoring of serum markers of diabetic ketoacidosis, and prevention of complications from rapid decreases in serum osmolarity. Each aspect of diabetic ketoacidosis management must be closely monitored. [13, 14, 15]
Alter fluid, glucose, and insulin administration in response to the dynamic and often volatile metabolic changes that occur during treatment. [16] A flow sheet is invaluable to monitor and document the progression of diabetic ketoacidosis management and is shown in the image below.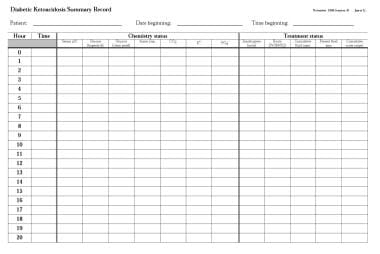 Sample diabetic ketoacidosis flow sheet.
Concurrent with management of diabetic ketoacidosis are basics of emergency resuscitation (eg, management of urgent airway, breathing, and circulation).
In addition to these basics, patients with diabetic ketoacidosis should remain on a diet of nothing by mouth (NPO), receive supplemental oxygen and, if bacterial infection is suspected, empiric antibiotic therapy.
The goal of the first hour of treatment is volume resuscitation and confirmation of diabetic ketoacidosis by laboratory studies, as follows:
Fluids - Isotonic sodium chloride solution bolus, 20 mL/kg intravenously over an hour or less

Glucose - None, unless serum glucose level falls to 250-300 mg/dL during rehydration
The goals of the second and succeeding hours are slow correction of hyperglycemia (with glucose level falling at a rate < 100 mg/dL/h), metabolic acidosis, and ketosis, in addition to continued volume replenishment.
Goals
These goals must be met in a manner that prevents too rapid a decrease in serum osmolarity. This usually requires several hours and meticulous attention to the patient's response to therapy. Careful observation is warranted to ensure that the patient does not become hypoglycemic.
Hypoglycemia may occur abruptly as insulin resistance resolves. To this end, maintain glucose levels above 150-250 mg/dL. During this period, admit the patient to an inpatient setting.
Fluids
Give isotonic sodium chloride solution or 0.45 isotonic sodium chloride solution (0.45% NaCl) with supplemental potassium at twice maintenance rate. Add potassium as KCl, potassium phosphate, or potassium acetate.
If serum potassium level is in the low life-threatening range, consider replenishing potassium orally (or by nasogastric tube) in a liquid (not tablet) formulation. This corrects hypokalemia much more rapidly than intravenous replenishment, the rate of which must be reduced because of cardiac considerations.
If serum potassium level is less than 3.5, add 40 mEq/L to intravenous fluids.
If serum potassium level is 3.5-5, add 30 mEq/L to intravenous fluids.
If serum potassium level is 5-5.5, add 20 mEq/L to intravenous fluids.
If serum potassium level is greater than 5.5, do not add additional potassium to intravenous fluids.
If serum potassium level is not immediately available, perform an ECG to search for electrocardiographic signs of hyperkalemia.
Consider oral fluids if nausea is absent.
A randomized, controlled trial by Kuppermann et al that included 1255 children with 1389 reported episodes of diabetic ketoacidosis examined the effects on neurologic outcomes by intravenous fluid rate of administration and the sodium chloride content. The study reported that neither had significant influence on the neurologic outcomes (declines in Glasgow Coma Scale score). [17]
Insulin
Do not give insulin until severe hypokalemia is corrected.
Then give 0.1 U/kg intravenous bolus; follow with insulin 0.1 U/kg/h intravenously by constant infusion. Prime all intravenous tubing before the bolus because insulin binds to intravenous tubing.
As a result of the potential for hypoglycemia, forego the insulin bolus if the serum glucose level is less than 500 mg/dL or if the child is known to be hypersensitive to exogenous insulin.
To prepare the insulin drip, add units of regular insulin equal to the patient's kilogram weight to 100 mL saline. Saturate the intravenous tubing with 20 mL of the insulin solution, and set the infusion rate equal to 10 mL/h. This provides 0.1 U/kg/h.
Use regular human insulin, unless the patient uses bovine insulin.
Set the intravenous infusion at 0.05-0.10 U/kg/h.
Glucose
Add 5% dextrose (D5 or D10) to intravenous fluids, if the child remains in ketoacidosis and serum glucose level approaches 250-300 mg/dL.
Do not discontinue the insulin drip, as the child remains in ketoacidosis for some time and insulin is critical in eliminating ketoacidosis.
Maintain the serum glucose concentration at 150-250 mg/dL during insulin infusion.
Titrate the insulin and glucose infusions, noting that 1 unit of regular insulin metabolizes 3 g of glucose.
The final goal is to obtain a serum glucose concentration within the reference range (serum glucose level, 100-150 mg/dL), to obtain neutral blood pH (pH =7.4; serum bicarbonate = 15-18 mEq/dL), and to eliminate serum ketones. This phase includes the transition from parenteral to subcutaneous insulin and from a fasting state to oral fluids. It usually occurs in the inpatient setting (see Further Inpatient Care) under the direction of a pediatric endocrinologist.
Consider 5-10% dextrose in intravenous fluids to maintain serum glucose level at least 150 mg/dL.
Consultations
A pediatric endocrinologist may be useful in complicated cases.
Transfer to a pediatric intensive care unit is prudent for the patient with persistent altered mental status, resistant acidosis, and hemodynamic instability, and for the first-time newly diagnosed patient.
Long-Term Monitoring and Prevention
Long-term monitoring
Admit children with diabetic ketoacidosis (DKA) for further evaluation, observation, management, diabetes education, and assessment of compliance by responsible caretakers.
Assess the need for social service intervention.
Prevention
If the patient is known to have diabetes, maintain compliance with an insulin therapy regimen and close contact with the treating physician. This is especially important in the presence of nausea, vomiting, and abdominal pain.
What would you like to print?