Periprocedural Care
Preprocedural Planning
Assess the patient before applying the splint. Sugar-tong splints cover the elbow, forearm, and wrist and may cause certain injuries (particularly to the skin) to be missed. Before a sugar-tong splint is applied, the entire limb from the shoulder to the fingertips should be examined for tenderness, bruising, and skin injury. A complete neurovascular examination should be performed before and after the splint is applied.
Ultimately, the person applying the splint should be sure of the diagnosis, aware of all injuries to the affected limb, and familiar with the risks and benefits of splinting.
Explain the splint and the splinting procedure to the patient.
Equipment
Equipment used in sugar-tong splinting is as follows (see the image below):
Splint padding material in rolls (4-6)

10-cm (4-in.) plaster in rolls (3 or 4)

Elastic roller bandages in rolls (2 or 3)

2.5-cm (1-in.) tape (most varieties are effective)

Room-temperature water

Hospital gown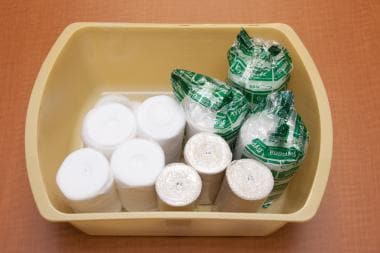 Splinting materials.
Patient Preparation
Anesthesia
Sugar-tong splinting itself is generally well tolerated without anesthesia. Anesthesia, however, is sometimes administered to patients requiring sugar-tong splinting in order to facilitate manipulation of broken bones.
Positioning
Position the patient supine or sitting upright on a hospital bed or stretcher. If possible, adjust the patient's bed to a height comfortable for the person applying the splint. Cover the patient with a hospital gown to protect his or her clothes from plaster dust and drips. Ask the patient to flex the elbow of the injured limb to 90°.
What would you like to print?