Overview
Background
In general, splints are applied to decrease movement and provide support and comfort through stabilization of an injury. [1, 2] They are primarily used to secure nonemergency injuries to bones until they can be evaluated by a consultant such as an orthopedic surgeon. They are also used to temporarily immobilize an extremity before surgery (eg, for an open fracture) or to assist in primary healing.
Unlike casts, splints are noncircumferential and are often preferred in the emergency department setting, where injuries are often acute and continued swelling can occur. All patients with injuries that are splinted should be referred for evaluation by a consultant in a timely fashion (usually within 2-7 days, depending on the reason for the splint).
Indications
A thumb spica splint (see the image below) can be used for various injuries, including the following: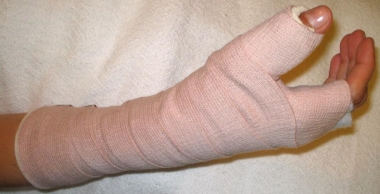 Thumb spica splint. Image courtesy of Kenneth R Chuang, MD.
In a clinical trial, Becker et al compared prefabricted neoprene hand-based thumb spica splints with custom-made thermoplast splints for treating trapeziometacarpal arthrosis. The trial concluded that the thumb spica splint was more comfortable, less expensive, and equally effective in treating the condition. [3]
Rocchi et al carried out a randomized prospective clinical trial that included 30 men who underwent surgical treatment of an acute complete UCL tear; after surgery, 15 of the patients received a standard spica splint, and the other 15 received a modified spica splint that allowed immediate postoperative motion. [4] The modified splint was associated with earlier functional recovery and better postoperative function.
Contraindications
There are no absolute contraindications for thumb spica splinting. Relative contraindications involve injuries that require immediate evaluation or intervention by a consultant (eg, an orthopedic surgeon, hand surgeon, or plastic surgeon), such as the following:
Complicated fractures

Open fractures

Injuries with associated neurovascular compromise
What would you like to print?