Periprocedural Care
Preprocedural Planning
Malrotation can be difficult to confirm with radiography. The best method of confirmation is clinical examination. With the second to fifth fingers slightly flexed, the nail beds of adjacent fingers should lie in the same plane. With 90° flexion of the metacarpophalangeal (MCP) and proximal interphalangeal (PIP) joints and with distal interphalangeal (DIP) joint extension, the second to fifth fingers should point toward the scaphoid. A comparison should also be made with the unaffected hand. Any degree of malrotation usually warrants surgical intervention.
In the conventional anatomic position, with the palms facing anteriorly, the medial side of the fourth digit is the ulnar side. The ulnar nerve provides sensory function to the palmar and dorsal aspects of the fifth digit and the medial half of the fourth digit.
Equipment
Equipment employed in ulnar gutter splinting includes the following (see the image below):
Stockinette

Padding (eg, Webril)

Bandage or wrap (eg, bias bandage or Ace bandage)

Clean, room-temperature water in a basin

Trauma shears or a pair of medical scissors without pointed ends

Absorbent underpads (eg, Chux) and bed sheet

Tape or bandage clips

Plaster or prefabricated fiberglass splint material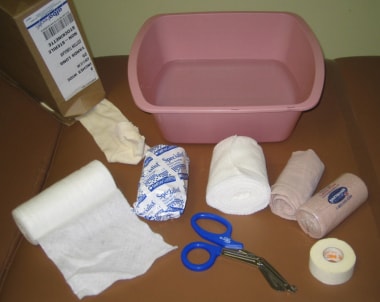 Equipment for ulnar gutter splint. Image courtesy of Kenneth R Chuang, MD.
For injuries or reductions that require shorter drying times, faster-setting plaster is available (eg, Specialist Extra Fast Setting Plaster). However, as plaster dries faster, the risk of thermal injury increases. For most splints, regular plaster (eg, Specialist Fast Setting Plaster) is appropriate.
Patient Preparation
Anesthesia
Ulnar gutter splinting itself is usually tolerated without the use of anesthesia. However, if significant manipulation or reduction of the injury is required during the splinting process, anesthetic techniques may be used. Acceptable techniques include the following:
Administration of a hematoma block or nerve block

Administration of oral or intravenous pain medications, including nonsteroidal anti-inflammatory drugs (NSAIDs) or opioid analgesic agents
With the administration of any analgesic agent or initiation of a formal sedation protocol, care must be taken to avoid oversedation. Perform a complete neurovascular examination before and after the splint has been applied.
Positioning
Place the patient in a comfortable position (eg, seated or reclined). Cover the patient with a sheet to avoid splatter from the wet plaster. (See the video below.)
Ulnar gutter splinting: appropriate coverage of patient. Video courtesy of Kenneth R Chuang, MD.
Completely expose the injured limb. Remove all jewelry. In particular, rings can cause constriction and ischemia of the fingers with delayed swelling of the soft tissues. If a ring cannot be removed, try using soap as a lubricant, or consider a ring cutter. (See the video below.)
Ulnar gutter splinting: removal of jewelry and rings to avoid ischemia from swelling. Video courtesy of Kenneth R Chuang, MD.
What would you like to print?