Periprocedural Care
Equipment
Equipment required for bag-valve-mask (BVM) ventilation include the following:
BVM with reservoir (see the image below)

Oxygen connector tubing

Oxygen source

Suction

Nasopharyngeal airway (NPA)

Oropharyngeal airway (OPA)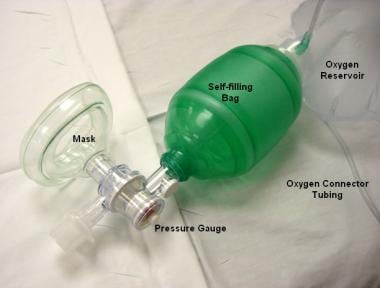 Adult disposable bag-valve-mask.
Patient Preparation
Anesthesia
Anesthesia is generally not required when an indication exists. Elective ventilation in the operating room may require a sedative agent (eg, propofol).
Positioning
Place towels under the patient's head to position the ear level with the sternal notch. [2] Extend the patient's head slightly.
What would you like to print?