Presentation
History
History is an essential component of evaluating the child with a limp. Specific considerations in the patient interview are warranted depending on the age of the patient.
In a toddler, history may be limited to observations by the parent or caregiver. The caregiver should be asked where he or she perceives the source of the patient's pain to be, as their longitudinal perspective may allow detection of a problem not evident during a relatively brief examination period. However, a pitfall in this approach is that referred pain may confound the diagnostic workup.
Older children will be better able to localize a source of pain, if present, and recount any preceding trauma. A careful history may reveal a traumatic cause that has been forgotten or overlooked. Conversely, trauma is sometimes offered in the history when a nontraumatic diagnosis is present, leading to a search-satisfaction error.
Private interview with the child is indicated in cases of suspected abuse or to assess an adolescent's risk for infectious arthritis secondary to sexual contact.
Associated qualities or risk factors
The history should include questions about associated qualities or risk factors described below.
Fever, chills, or other constitutional symptoms
Malignancies, infectious arthritis, osteomyelitis, Kawasaki syndrome (KS), Henoch-Schönlein purpura (HSP), and juvenile idiopathic arthritis (JIA) (see the image below) all can present with fever.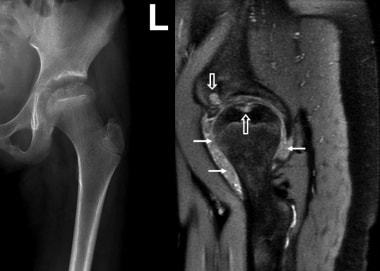 Juvenile idiopathic arthritis. Anteroposterior radiograph of the hip shows ballooning of the femoral metaphysis and flattening of the femoral epiphysis, with erosion of the femoral head. On the sagittal T2-weighted image, a joint effusion with prominent nodular synovitis is observed (arrows). Erosions are seen in the acetabulum and femoral head (open arrows).
Time of day when symptoms are exacerbated or most noticeable
Early morning stiffness may be the first indication of JIA.
Nocturnal pain suggests osteoid osteoma or other bone neoplasms.
Growing pains, a diagnosis of exclusion, requires that symptoms only occur at night and that the patient has no limp or symptoms during the day.
A history of upper respiratory tract infectious symptoms
Recent or concurrent URI symptoms suggest a transient synovitis (see the image below).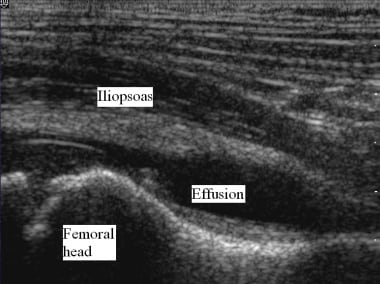 Transient synovitis. Ultrasound image of the left hip shows a large joint effusion. The fluid was aspirated leading to complete resolution of symptoms. No organisms were grown, and the diagnosis was transient synovitis.
A remote history of URI may be a clue to a missed streptococcal infection predisposing to a poststreptococcal reactive arthritis.
Associated pains
Muscle pain, ligamentous strains, bruises, and injection sites all can cause limps.
Back pain is associated with diskitis.
Joint pain may be from local pathology or referred pain.
Chronicity of symptoms
Long-standing and progressive symptoms may be due to underlying neuromuscular disease. For example, is the child able to play and keep up with his peers?
Palliative/provocative features
Pain aggravated by activity may be due to overuse syndromes, stress fractures, or hypermobility syndrome.
Pain easing with activity suggests an inflammatory etiology (eg, arthritis).
Other issues
New footwear or a change in the amount of walking may be reported.
Signs of weakness, paresthesias, or incontinence may be detected in acute spinal cord syndromes.
Dark or discolored urine may be reported with myositis.
Easy bruising, weight loss, or bone pain may be seen with neoplastic or other infiltrative bone marrow disease.
History of urethral discharge suggests a genitourinary tract abnormality; vaginal discharge may point toward a diagnosis of pelvic inflammatory disease; testicular pain in males may present as a limp.
Family history may include short stature, vitamin D–resistant rickets, Charcot-Marie-Tooth disease, SLE, RA, or a history of developmental delay (eg, cerebral palsy).
Physical Examination
The examination should be thorough and encompass an assessment of gait, orthopedic examination, neurologic examination, and a focused general medical examination. The toddler or nonverbal child may not be able to cooperate with detailed physical examination. Thus, simple observation of interaction with the caregiver is of critical value. Much of the examination can be performed with the child in the caregiver's lap to mitigate patient distress. The young patient who is reluctant or refusing to walk may be encouraged by having the parent or caregiver stand on the opposite side of the room.
Assessment of gait
The normal human gait typically is a smooth and unlabored fluid movement, transferring weight from one leg to the other. The stance phase begins with the heel strike, continues into midstance, and finishes with the toe-off or push-off movement. Both feet are in contact with the ground for only 20% of the gait cycle. The swing phase comprises the remainder of the gait and is the amount of time the foot is not in contact with the floor. It is divided into the 3 phases as follows: acceleration, swing, and deceleration. In order for gait to be smooth and fluid, joint flexibility, pelvic rotation, pelvic tilt, balance, and strength all have to be unimpaired.
Assessment of a gait disorder must take developmental status into consideration. At approximately age 9 months, infants pull up to stand and walk by holding onto furniture or other items. Most children older than 1 year can walk unassisted. Initially, the child's gait differs from the adult's gait in several ways. Although the gait appears quicker because the child takes more steps per minute, the velocity is actually lower due to a significantly shorter stride length. The child also seems more off balance and displays a wider-based gait. Intrinsic hip abductor weakness leads to a mild Trendelenburg gait and a noticeably shorter stance phase. By their third year, children have assumed adult gait characteristics. Thereafter, growth increases gait velocity by lengthening the stride.
Abnormal gaits causing limp
An antalgic gait is caused by pain. Attempts to bear weight invoke spinal responses that inhibit normal gait. The stance phase of the painful extremity is significantly shortened. The shortened swing phase of the contralateral side produces the quickstep or antalgic gait.
Abductor lurch or Trendelenburg gait is observed with hip disease. The trunk swings over the affected leg on the ground (stance phase). If the condition is bilateral, the trunk swings from side to side. The cause is weakness of the hip abductors (eg, gluteus medius) responsible for keeping the pelvis level during the swing phase. It may become weak if the hip is chronically affected. A child with Legg-Calve-Perthes disease or a slipped capital femoral epiphysis may present with this type of gait, particularly if the condition has been chronic.
The steppage gait is commonly observed in patients with foot drop due to injury to the peroneal nerve or disease causing weakness of the tibialis anterior muscle.
The toe-walking gait is manifested when a real or apparent leg length discrepancy is present. Contractures and muscle spasms can make the lengths seem different, when, in fact, the skeleton is symmetric. Causes include tight heel cords from mild cerebral palsy, leg length differences, or heel pain. Occasionally, no cause is found.
The vaulting gait occurs when a child with knee pain or quadriceps weakness walks stiff legged to avoid bending the knee, forcing him or her to vault over the leg to get to the toe off position. This may also be seen in patients avoiding hip flexion, such as with psoas muscle inflammation.
Orthopedic examination
Gait evaluation
Evaluate gait (see Assessment of gait disorder). Gait assessment should be performed with the child barefoot to remove shoe-related pathology from the assessment.
Feet and shoes
The pattern of wear reflects gait abnormalities. Items such as a stone in the shoe or a cobbler's nail protruding through the inner sole, plantar warts, tight shoes, and ingrown toenails may only be found by including the feet and shoes in the examination.
Gluteal folds
Asymmetry of the gluteal skin folds is associated with congenital hip dysplasias.
Spine
Inspect and palpate the spine and lower extremities for deformities or point tenderness suggesting fracture or bony pathology.
Joints
Evaluate for warmth, effusion, and range of motion.
Leg lengths
Leg length is measured from the anterior superior iliac spine to the medial malleolus of the ankle. A discrepancy of only one half of an inch can lead to gait changes. An abnormally long leg can be caused by developmental dysplasia of the hip, growth plate injury from antecedent trauma, Legg-Calves-Perthes disease, or disuse.
Galeazzi test (see the image below)
The Galeazzi test is a useful maneuver to detect leg length discrepancy. The patient is placed supine on an examination table, with hips and knees in maximal flexion and the feet planted on the table. In an abnormal test, the knee heights will be discrepant.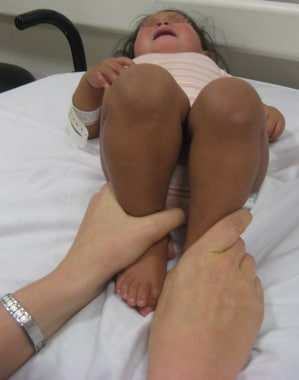 Demonstration of Galeazzi test to evaluate for leg length discrepancy.
FABER test (see the image below)
This acronym stands for hip F lexion, AB duction, and E xternal R otation. The patient's ankle is placed over the contralateral knee while the examiner places downward pressure on the ipsilateral knee. Pain provoked by this maneuver suggests pathology at the ipsilateral sacroiliac joint.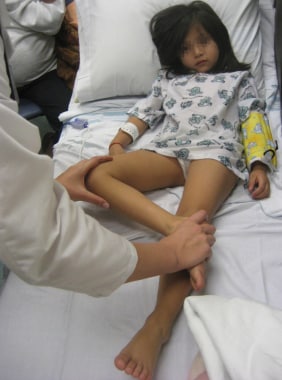 Demonstration of FABER test to evaluate for sacro-iliac joint pathology.
Trendelenburg test
This test can unmask neurologic and joint problems. The patient is asked to stand on the affected leg, which causes a pelvic tilt toward the ipsilateral side. The test may be abnormal in developmental dysplasia of the hip, Legg-Calves-Perthes disease, slipped capital femoral epiphysis, and neurologic conditions causing weakness of the gluteus medius muscle.
Prone internal rotation (see the image below)
Since the hip joint is not as easy to directly assess for swelling and erythema (relative to the knee and ankle), range of motion testing allows the best surrogate evaluation. The most sensitive test for hip joint pathology is prone internal rotation. With the patient in the prone position, the knees are flexed and the ankles are rotated away from the body. The motions of extension and internal rotation will increase intracapsular pressure and will not be tolerated in patients with hip joint pathology such as transient synovitis or septic arthritis.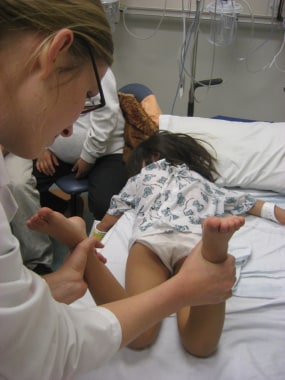 Demonstration of prone internal rotation. The maneuver increases intracapsular pressure in the hip and will not be tolerated by a patient with an inflammatory process.
Neurologic examination
Assess motor function, sensation, and coordination through observation or direct testing if the child is able to cooperate.
Assessment of deep tendon reflexes will give insight into upper and motor neuron lesions that may be a cause of weakness.
It is important to distinguish whether the cause of a limp is pain or neuromuscular weakness, the former being by far the more common cause. For example, this subtle distinction may be noted: a child limping because of pain spends little time bearing weight on the affected leg. In contrast, a child with a limp because of weakness may spend the same amount of time on both legs, but may shift his or her weight in order to maintain balance. [4]
Asymmetry of the thighs or the legs suggests more chronic conditions, since long-standing neuromuscular pathologies produce weakness and wasting.
Medical examination
A general medical examination is indicated in all patients to confirm pathology suspected based on history and gait assessment. It also serves as a screen for obscure or occult etiologies of limp.
Jaundice, blue sclera, and iritis or keratitis are associated with sickle cell anemia, osteogenesis imperfecta, or JIA, respectively.
Rheumatic fever may be detected by a new or changing murmur.
Back examination may reveal tufts of hair or spinal dimples, overlying a spina bifida.
Purpuric lesions may be a clue for Henoch-Schönlein purpura, and when present with fever, may represent invasive bacterial infection or endocarditis.
Petechiae can be seen with invasive infections or leukemia.
Abdominal examination may reveal tenderness associated with an abscess or appendicitis.
Examination of the scrotum may reveal a tender testicle as a source of limp.
Urethral discharge can be associated with both rheumatologic conditions as well as infectious arthritis.
Complications
Left untreated, a slipped capital femoral epiphysis can result in permanent gait abnormalities.
Early treatment of several disorders that may cause limping can result in resolution or at least limit the extent of the injury.
The degree to which intervention will play a role is entirely dependent on the etiology of the limp.
What would you like to print?