Periprocedural Care
Equipment
The basic materials required for central venous cannulation are widely available as prepackaged kits (see the image below). The components that are required to place a femoral vein catheter include the following [1] :
Povidone-iodine or chlorhexidine solutions to swab and prepare the venipuncture site

Sterile drapes and towels

Sterile gloves

Gown, mask, and cap

Local anesthetic (lidocaine 1%)

Needle, 26 gauge, with 2- to 5-mL syringe, for injecting local anesthetic

Needle, 26 gauge, to be used as a finder needle

Needle, 20-22 gauge, with 10-mL syringe, to access the femoral vein

Flexible guide wire with J-tip

No. 11 scalpel

Dilator device for the skin and soft tissue overlying the vein

Single- or multiple-lumen catheter

Silk or nylon sutures, 3-0 or 4-0

Needle holder

Suture scissors

Dressings (antibiotic ointment, gauze pads, cloth or plastic tape)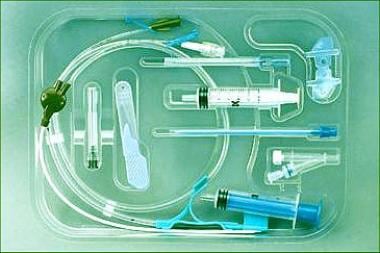 Triple-lumen catheter kit.
Patient Preparation
Anesthesia
Identify anatomic landmarks. Clean and prepare the proposed venipuncture site with alcohol and a povidone-iodine or chlorhexidine swab. Using a 26-gauge needle, infiltrate the skin and subcutaneous tissue over the site with 2-5 mL of lidocaine 1%. Anesthesia may be omitted in an emergency situation where venous access is required in an obtunded patient for expeditious administration of medications and fluids. For more information, see Local Anesthetic Agents, Infiltrative Administration.
Positioning
For femoral vein catheterization, the patient should be placed in the supine position with the hip in the neutral position.
What would you like to print?