Periprocedural Care
Preprocedural Planning
In patients who need long-term venous access (eg, patients with a small-bowel transplant), imaging of the neck veins may be necessary before the procedure.
Doppler ultrasonography (US), magnetic resonance (MR) venography, or both can be used to establish venous patency and anatomy, thus improving planning and anticipation of potential problems with access. [3]
Particularly in patients with multiple medical problems, a complete blood count, clotting profile, and relevant renal and liver function tests should be included in the preprocedural workup. Depending on the platelet count, platelet transfusion may be needed.
Equipment
Materials required for the procedure include the following:
Central venous catheter tray (line kit; see the images below)

Sterile gloves

Antiseptic solution with skin swab

Sterile drapes or towels

Sterile gown

Sterile saline flush, approximately 30 mL

Lidocaine 1%

Gauze

Dressing

Scalpel, No. 11

Vascular forceps (DeBakey)

Needle driver

Polypropylene suture 4-0

Steri-Strips

Mepore adhesive tape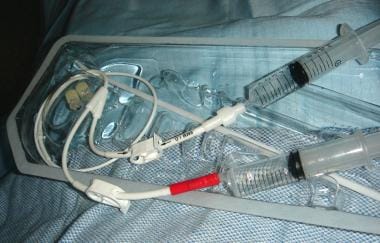 Double-lumen tunneled line.

Hemocatheter.
Patient Preparation
Anesthesia
A local anesthetic agent is used before the catheter is tunneled. For more information, see Local Anesthetic Agents, Infiltrative Administration.
Positioning
Trendelenburg positioning with the head turned to the side opposite the central venous line insertion is optimal (see the image below); the internal jugular vein (IJV) distends in this position, providing a maximal cross-sectional area for access. [4] The ipsilateral arm should be extended minimally at the axilla. In adults, neutral positioning of the neck has been shown to be equally safe. [5]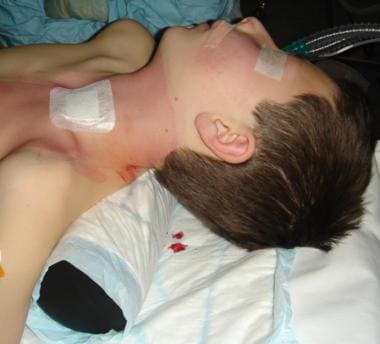 Correct positioning of patient, with head down and turned to opposite side with roll under neck.
A 10-15º head-down (Trendelenburg) position distends the IJV and also elimimates the risk of air embolism. This dual advantage also facilitates successful venipuncture on the first attempt. [6]
What would you like to print?