Periprocedural Care
Patient Education and Consent
Before the procedure, a discussion should be held with the patient to explain the procedure, in particular with regard to its benefits, risks, and complications. Signed informed consent must be obtained.
Equipment
Equipment required for central venous access via the subclavian (or infraclavicular or subclavicular) approach to the subclavian vein includes the following:
Central venous catheter tray (line kit; see the image below)

Sterile gloves

Antiseptic solution with skin swab

Sterile drapes or towels

Sterile gown

Sterile saline flush, approximately 30 mL

Lidocaine 1% (obtain additional vial of lidocaine 1% if needed)

Gauze

Dressing

Scalpel, No. 11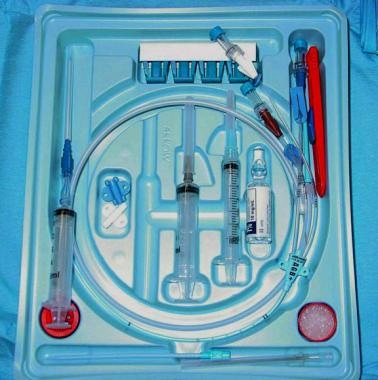 Central venous catheter equipment. Courtesy of Wikimedia Commons.
Patient Preparation
Local anesthesia using 1% lidocaine is required. For more information, see Local Anesthetic Agents, Infiltrative Administration.
Place the patient in the supine position. If possible, the bed should be raised to a height that is comfortable for the operator, so that bending over will be unnecessary. Do not place towels between the shoulder blades or turn the head; these have been shown to decrease the size of the subclavian vein. [5]
Place the patient in 15º of Trendelenburg position to reduce the risk of air embolism. Increasing this angle does not alleviate vessel distention, because the subclavian vein is fixed within surrounding tissue.
What would you like to print?