Periprocedural Care
Equipment
A spinal or lumbar puncture tray (see the image below) should include the following items:
Antiseptic solution with skin swabs

Lidocaine 1% without epinephrine

Spinal needles, 20 and 22 gauge

Four plastic test tubes, numbered 1-4, with caps
Patient Preparation
Local anesthesia is employed for lumbar puncture (see Technique and Local Anesthetic Agents, Infiltrative Administration).
The patient is placed in the lateral recumbent position (see the image below) with the hips, knees, and chin flexed toward the chest so as to open the interlaminar spaces. A pillow may be used to support the head. In a single-center prospective study, performance of lumbar puncture in the extended rather than the flexed lateral recumbent position yielded a statistically significant decrease in the cerebrospinal fluid (CSF) opening pressure, but the difference (mean, 0.6 ± 2.2 cm water) was small and of doubtful clinical significance.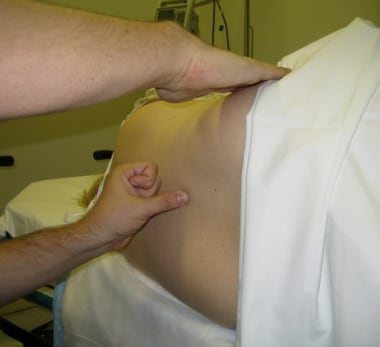 Lumbar puncture lateral recumbent position. Image courtesy of Gil Z Shlamovitz, MD.
The sitting position (see the image below) may be a helpful alternative, especially in obese patients, because it makes it easier to confirm the midline. In order to open the interlaminar spaces, the patient should lean forward and be supported by a Mayo stand with a pillow on it, by the back of a stool, or by another person.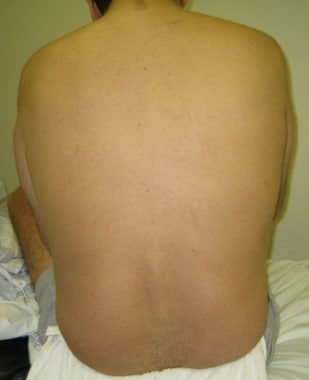 Lumbar puncture sitting position. Image courtesy of Gil Z Shlamovitz, MD.
If the procedure is performed with the patient in the sitting position and an opening pressure is required (as in the case of pseudotumor cerebri), replace the stylet and have an assistant help the patient into the left lateral recumbent position. There are no data suggesting that a position change will increase the risk of spinal headache or transection of the spinal nerves. Take care, however, not to change the orientation of the spinal needle during this maneuver.
What would you like to print?