Periprocedural Care
Equipment
The following equipment is needed for nasogastric (NG) intubation (see the image below):
NG tube (for adult patients) - 16-18 French

NG tube (for pediatric patients) - In pediatric patients, the correct tube size varies with the patient's age; to find the correct size (in French), add 16 to the patient's age in years and then divide by 2, so that for an 8-year-old child, for example, the correct size is 12 French ([8 + 16]/2 = 12)

Viscous lidocaine 2%

Oral analgesic spray (benzocaine spray or other)

Syringe, 10 mL

Glass of water with a straw

Water-based lubricant

Toomey syringe, 60 mL

Tape

Emesis basin or plastic bag

Wall suction, set to low intermittent suction

Suction tubing and container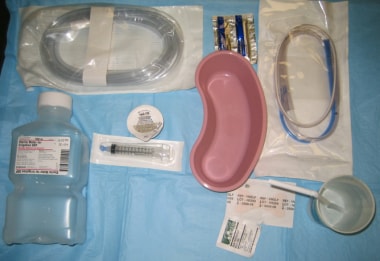 Equipment for nasogastric intubation.
Patient Preparation
Anesthesia
Various methods of topical anesthesia for NG intubation have been proved to be effective in pain relief and to improve the likelihood of successful NG intubation. [7, 8, 9, 10, 11]
The use of viscous lidocaine (ie, the sniff and swallow method) was found to significantly reduce the pain and gagging sensation associated with NG tube insertion. [12] Viscous lidocaine is discussed in more detail in the Technique section below.
Alternative techniques include the following:
Nebulization of lidocaine 1% or 4% through a face mask (≤ 4 mg/kg; not to exceed 200 mg per dose in adults) is an option; the authors recommend that a preservative-free lidocaine (ie, intravenous lidocaine) be used for nebulization in order to minimize the risk of allergic reaction

An anesthetic spray that contains benzocaine or a tetracaine/benzocaine/butyl aminobenzoate combination may be applied to the nasal and oropharyngeal mucosa; be advised that incidents of methemoglobinemia after a single use of benzocaine topical sprays have been reported to the US Food and Drug Administration (FDA); for more information, see

Anesthesia, Topical
Positioning
The patient should be seated in an upright position.
What would you like to print?