Periprocedural Care
Patient Education and Consent
Explain the procedure, benefits, risks, complications, and alternative options to the patient or the patient's representative, and obtain signed informed consent.
Equipment
The equipment required can be found in a disposable paracentesis/thoracocentesis kit (see the image below).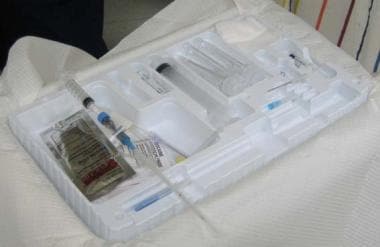 Paracentesis/thoracocentesis tray.
Equipment includes the following:
Antiseptic swab sticks

Fenestrated drape

Lidocaine 1%, 5-mL ampule

Syringe, 10 mL

Injection needles, 22-gauge (two)

Injection needle, 25-gauge

Scalpel, No. 11 blade

Catheter, 8 French, over 18-gauge × 7.5-in. (19-cm) needle with three-way stopcock, self-sealing valve, and a 5-mL Luer-Lok syringe

Syringe, 60 mL

Introducer needle, 20-gauge

Tubing set with roller clamp

Drainage bag or vacuum container

Specimen vials or collection bottles (three)

Gauze, 4 × 4 in. (10 × 10 cm)

Adhesive dressing
Patient Preparation
Anesthesia
Local anesthesia with injection of lidocaine is employed. (See Technique.) For more information, see Local Anesthetic Agents, Infiltrative Administration.
Positioning
Patients with severe ascites can be positioned supine. Patients with mild ascites may need to be positioned in the lateral decubitus position, with the skin entry site near the gurney. The lateral decubitus position is advantageous because air-filled loops of bowel tend to float in a distended abdominal cavity.
The two recommended areas of abdominal wall entry for paracentesis are as follows (see the image below):
2 cm below the umbilicus in the midline (through the linea alba)

5 cm superior and medial to the anterior superior iliac spines on either side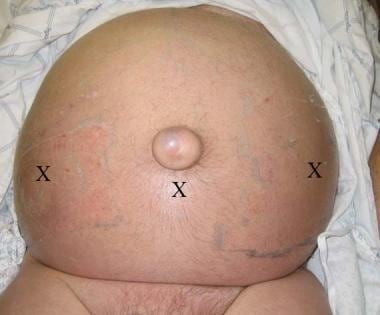 Paracentesis: standard sites.
The authors recommend the routine use of ultrasonography (US) to verify the presence of a fluid pocket under the selected entry site in order to increase the rate of success (see the image below). [31]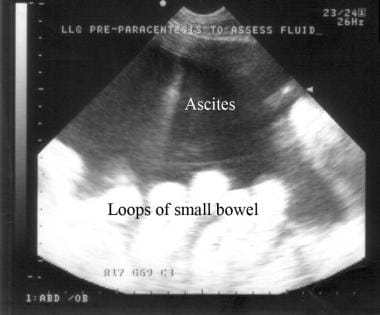 Ultrasonogram showing ascites.
Performing US also helps the practitioner avoid a distended urinary bladder or small-bowel adhesions below the selected entry point. To minimize complications, it is important to avoid areas of prominent veins (caput medusae), infected skin, or scar tissue.
What would you like to print?