Overview
Background
This article describes the manual reduction of rectal prolapse. Rectal prolapse is an uncommon condition that may be encountered by physicians in a number of settings and specialties. The incidence of this condition is bimodal. It occurs in children younger than 1 year but is most commonly encountered in older adults. In adults, a female predominance exists.
Predisposing factors for rectal prolapse include the following:
Decreased sphincter tone or weakness of the pelvic floor (this may be age-related)
It is important to distinguish between full-thickness prolapse and mucosal prolapse (see the image below).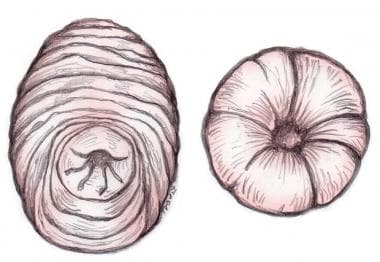 Diagram depicting clinical difference between true (full-thickness) prolapse (left), including all layers of rectum and with circular folds seen on prolapsed intestine, and procidentia, or mucosa-only prolapse (right), in which radial folds are seen in mucosa.
Indications
The definitive treatment for recurrent rectal prolapse is surgical rectopexy. [1] As a temporizing measure, manual reduction of the prolapse is indicated, as well as treatment of any underlying condition (eg, constipation). Surgery may not be needed if the underlying condition can be successfully treated.
Mucosal prolapse is annoying, but many patients can be instructed on how to perform self-reduction easily if prolapse recurs while they are awaiting definitive treatment or in response to treatment of any underlying condition. A full-thickness prolapse may also be reduced by the patient, though this may be more difficult.
Contraindications
Manual reduction is contraindicated, and urgent surgical evaluation indicated, in the rare case of strangulated rectal prolapse, which may lead to perforation. This is recognized on physical examination by the necrotic appearance of the prolapsed tissue.
What would you like to print?