Overview
Background
This article describes manual reduction of rectal prolapse. Rectal prolapse is an uncommon condition that may be encountered by physicians in a number of settings and specialties. The incidence of this condition is bimodal. It occurs in children younger than 1 year but is most commonly encountered in older adults. In adults, a female predominance exists.
A population-based cohort study from England that used Hospital Episode Statistics to evaluate trends in the surgical treatment of rectal prolapse from 2001 to 2012 (N = 25,238; 29,379 operations) reported that the median patient age was 73 years, patients were predominantly female (female-to-male ratio, 7:1), the mean length of hospital stay was 3 days, and the number of patients increased over the study period. [1]
Predisposing factors for rectal prolapse include the following:
Decreased sphincter tone or weakness of the pelvic floor (this may be age-related)
It is important to distinguish between full-thickness prolapse and mucosal prolapse (see the image below).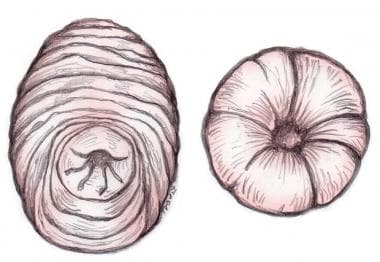 Diagram depicting clinical difference between true (full-thickness) prolapse (left), including all layers of rectum and with circular folds seen on prolapsed intestine, and procidentia, or mucosa-only prolapse (right), in which radial folds are seen in mucosa.
Rectal prolapse can sometimes be confused with intussusception. [2] When the intussusception prolapses through the anal verge, it can mimic procidentia.
Indications
The definitive treatment for recurrent rectal prolapse is surgical rectopexy. [3, 4] As a temporizing measure, manual reduction of the prolapse is indicated, as well as treatment of any underlying condition (eg, constipation). Surgery may not be needed if the underlying condition can be successfully treated.
Mucosal prolapse is annoying, but many patients can be instructed on how to perform self-reduction easily if prolapse recurs while they are awaiting definitive treatment or in response to treatment of any underlying condition. A full-thickness prolapse may also be reduced by the patient, though this may be more difficult.
Contraindications
Manual reduction is contraindicated, and urgent surgical evaluation indicated, in the rare case of strangulated rectal prolapse, which may lead to perforation. This is recognized on physical examination by the necrotic appearance of the prolapsed tissue.
Technical Considerations
Manual reduction of rectal prolapse has been attempted via several different methods, including steady pressure, application of sugar and salt as hygroscopic agents, and even elastic compression wrap for large incarcerated prolapse. Waller et al demonstrated a novel manual reduction technique that involves intraluminal insertion of saline-soaked packing. [5] The patient is placed in the lateral position, with the knees bent toward the chest. The packing is inserted approximately 15 cm into the rectum, the clinician waits for the prolapse to reduce (which may take a few minutes), and the packing is then slowly retracted without any counter-traction at the anus.
The Thiersch stitch procedure is sometimes used to treat rectal prolapse in elderly patients; it is simple to perform and at times can also be used as a bedside technique. Iida et al, in a study comparing the modified Gant-Miwa-Thiersch procedure (mGMT) with other procedures for rectal prolapse, reported no serious postoperative complications and no operative deaths in 187 patients who underwent mGMT, with a recurrence rate of 7.5% in a period of 13.8 years. [6]
Outcomes
Morrison et al, in a systematic review of management options in pediatric rectal prolapse that included 27 studies (N = 907) dated from 1990 to April 2020, analyzed parameters such as demographic details, interventions, efficacy, complications, and procedures performed. [7] The pooled success rates were calculated on the basis of the procedure. The overall initial success rate was 79.5% for sclerotherapy; ethyl alcohol was the best sclerosing agent, in that it had a high first-injection success rate, caused fewer complications, and was easily available. Among the various surgical repairs that were performed, laparoscopic rectopexy with mesh placement had an overall success rate of 96.1%.
What would you like to print?