Technique
Manual Reduction of Prolapsed Rectum
Full-thickness rectal prolapse must be distinguished from mucosal prolapse. In mucosal prolapse, the prolapsed tissue has radial folds at the anal junction, whereas a full-thickness prolapse has circular folds in the prolapsed mucosa (see the first image below). In mucosal prolapse (see the second image below), the mucous membrane alone is prolapsed and may be confused with hemorrhoids. In complete or full-thickness prolapse (see the third and fourth images below), all three layers of the rectum are prolapsed.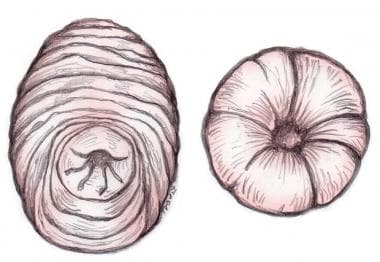 Diagram depicting clinical difference between true (full-thickness) prolapse (left), including all layers of rectum and with circular folds seen on prolapsed intestine, and procidentia, or mucosa-only prolapse (right), in which radial folds are seen in mucosa.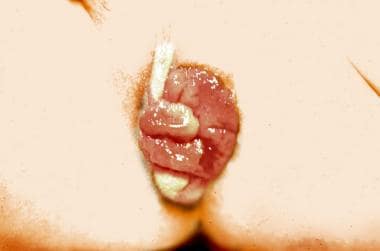 Image demonstrates mucosal prolapse, with radial folds seen on mucosa.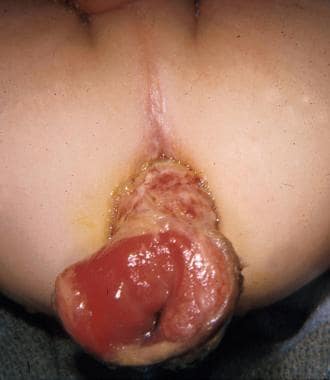 Picture of infant with full-thickness rectal prolapse. Severe edema and abundant mucus are seen on mucosal surface.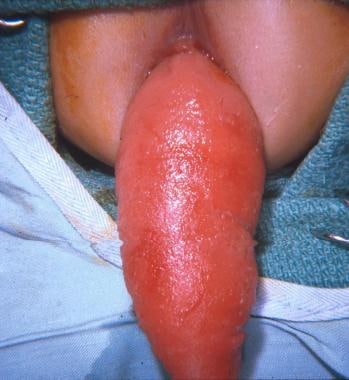 Photograph of severe rectal prolapse with clinically significant edema and mucosal ulceration.
Sphincter relaxation is key to a successful reduction; failure is usually due to inadequate relaxation.
Apply gentle manual pressure distally to slide the distal end of the prolapse into the lumen and through the anal sphincter. The procedure may take several minutes. If mucosal edema makes reduction difficult, sucrose (table sugar) may be used as an osmotic agent to reduce the edema and make reduction easier. [8, 9] Anecdotally, the use of table salt has been described for the same purpose. If constipation is present, it should be aggressively treated.
Unless gangrenous bowel is reduced and perforation results, no complications are expected. A small amount of bleeding may occur and is not concerning.
The optimal approach for definitive surgical management of complete rectal prolapse has not been established. [10, 3]
What would you like to print?