Periprocedural Care
Equipment
The equipment required to perform rigid sigmoidoscopy includes the following items (see the image and video below):
Scope

Stylet (obturator)

Eyepiece

Bellows

Light source

Air filter

Water-based lubricant

Protective clothing as indicated (eg, gloves, apron, face mask, goggles)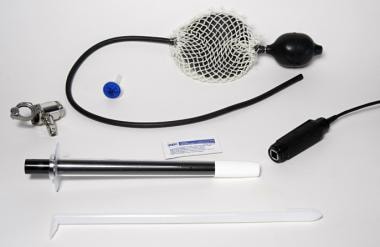 Equipment needed for rigid sigmoidoscopy. Photo courtesy of Vicki Adams, Senior Medical Photographer, Mater Health Services Multimedia team.
Equipment for performing rigid sigmoidoscopy.
Sherwinter reported on a novel introducer constructed from available operating room supplies that converts a standard laparoscope into a high-definition rigid sigmoidoscope. [17]
If a light source fails—an event that is not uncommon—a temporary solution is to remove the bulb and mains supply unit from the light source and insert a disposable pen torch in its place. [18]
A study by Lewis et al (N = 50) described the use of a novel digital rigid sigmoidoscope to assess rectal disorders. [19] This device was able to facilitate the clinical diagnosis in 96% of cases and was useful in outpatients irrespective of bowel preparation method. The technology provided good audiovisual output that could be recorded and employed in a "watch-and-wait" policy for some disorders. The authors found the digital rigid sigmpoidoscope to have significant potential for proctoring and training.
Patient Preparation
Anesthesia
Rigid sigmoidoscopy is most often performed without sedation.
Positioning
The left lateral (Sims) position, in which the patient lies on his or her left side with the hips and knees flexed and parallel (see the image below), is probably the position most commonly used for rigid sigmoidoscopy.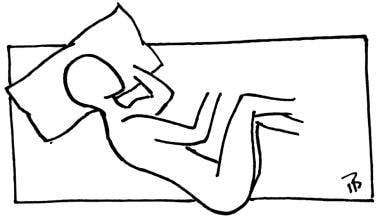 Rigid sigmoidoscopy. Sims position.
In this position, the buttocks must overhang the edge of the bed, with the patient's trunk angled obliquely across the bed, to permit the full maneuverability of the scope (see the video below); the more transverse across the bed, the easier the examination. A small sandbag may be placed under the left thigh or hip to provide elevation. This ensures that the head of the sigmoidoscope can be depressed below the level of the bed. [10, 11, 12, 20, 21]
Rigid sigmoidoscopy. Proper positioning and anatomy of patient.
An alternate position is the prone knee-elbow or jackknife position, in which the patient lays prone in an inverted position on a specialized table. These positions are particularly helpful for allowing the scope a considerable degree of maneuverability. When this position is desired but only a normal examination bed is available, a cooperative patient can still be placed in the knee-chest position. [10, 11, 12, 20, 21]
What would you like to print?