Overview
Background
External hemorrhoids (piles) occur distal to the dentate line and develop as a result of distention and swelling of the external hemorrhoidal venous system (see the first image below). [1] Engorgement of a hemorrhoidal vessel with acute swelling may allow blood to pool and, subsequently, clot; this leads to the acutely thrombosed external hemorrhoid, a bluish-purplish discoloration often accompanied by severe incapacitating pain (see the second image below).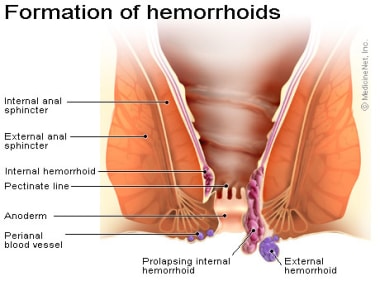 Anatomy of external hemorrhoid. Image courtesy of MedicineNet, Inc.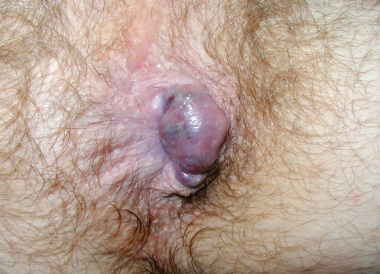 Thrombosed hemorrhoid, treated with incision and removal of clot. Image courtesy of Dr. Jonathan Adler.
Thrombosed external hemorrhoids are a common problem but remain a poorly studied topic. Reported risk factors for thrombosed external hemorrhoid include a recent bout of constipation [2, 3] and traumatic vaginal delivery. [4, 5]
Although conservative nonsurgical treatment (stool softeners, increased dietary fiber, increased fluid intake, warm baths, analgesia) ultimately results in improvement of symptoms for most patients, surgical excision of the thrombosed external hemorrhoid often precipitates resolution. [6, 7, 8]
Newer conservative treatments, such as topical nifedipine, show promise of having advantages over traditional conservative treatments, such as lidocaine ointment [9] ; however, in comparison with surgical excision, they have not yet been shown to shorten the time to symptom resolution or reduce the frequency of recurrence.
Surgical excision of the acutely thrombosed external hemorrhoid is within the purview of an office-based or emergency practitioner. [10, 11] This safe procedure offers low recurrence and complication rates and high levels of patient acceptance and satisfaction. [12]
Go to Hemorrhoids and Anal Surgery for Hemorrhoids for complete information on these topics.
Indications
Acute pain and thrombosis of an external hemorrhoid within 48-72 hours of onset is an indication for excision.
In a retrospective study by Greenspon et al, surgical treatment resulted in much faster symptom resolution (3.9 days vs 24 days), as well as a lower frequency of recurrence (6.3% vs 25.4%), in the study population. [13] A study by Cavcić et al demonstrated that in comparison with simple incision or topically applied 0.2% glycerin trinitrate ointment, thrombosed external hemorrhoid excision improved recurrence rates, symptoms, and residual skin tags at 1-year follow-up. [14]
Contraindications
Absolute contraindications to thrombosed external hemorrhoid excision in the emergency department (ED) include the following:
Any concern that the lesion may be something other than a thrombosed external hemorrhoid, such as a painless rectal mass (thrombosed external hemorrhoids are always painful)

A grade IV internal hemorrhoid associated with a thrombosed external hemorrhoid

Known severe coagulopathy

Hemodynamic instability
Relative contraindications to ED excision of a thrombosed external hemorrhoid include the following:
Allergy to local anesthetic

Perianal infection

Known coagulopathy

Any serious systemic illness or comorbidity that would significantly increase the risk of the procedure
What would you like to print?