Technique
Excision of Thrombosed External Hemorrhoid
To increase exposure to the area, tape each buttock in a T pattern. First, place two long strips of tape (~40 cm long) longitudinally on each buttock. These strips should extend from the lower back down to the upper thigh. Next, place another long strip of tape horizontally across the two vertically oriented strips. Pull the horizontal strips out to the side, and tape them to the gurney. (See the image below.)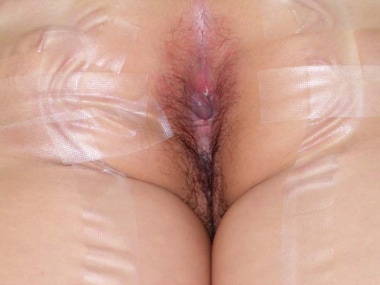 Taping of patient before procedure (thrombosed external hemorrhoid is at 9-o'clock position).
Prepare a light source for the sterile field (see the image below). Use direct lighting; do not rely on ambient light alone.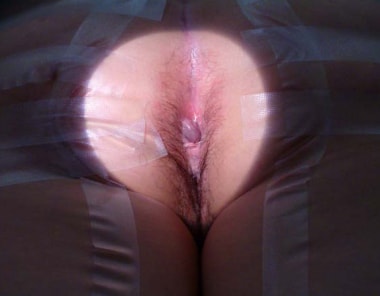 Preparation of light source for sterile field.
After cleaning the area with an alcohol swab, locally inject approximately 2-6 mL of local anesthetic (eg, lidocaine with epinephrine) at the base of the thrombosed hemorrhoid, then inject approximately 1-2 mL of the local anesthetic within the hemorrhoid (see the video below).
Injection of local anesthetic at hemorrhoid base and within hemorrhoid.
Use skin swabs and antiseptic solution to clean the skin, starting at the hemorrhoid and working outward in progressively larger circles (see the video below). Next, create a sterile field with sterile drapes surrounding the projected work area.
Application of povidone-iodine antiseptic.
Make an elliptical incision in the roof of the hemorrhoid, taking care to avoid the anal sphincter muscle (see the video below). The incision should be directed radially from the anal orifice. The elliptical incision allows the thrombosed hemorrhoid to be unroofed. It is preferable to a simple incision and evacuation of clot because of the usual presence of multiloculated clots and their tendency to close and reclot if not unroofed. The use of an elliptical incision reduces the complication rate. [15]
Primary elliptical incision over hemorrhoid.
Remove the blood clot from the elliptical opening (see the video below). Multiple clots are often present; all clots should be removed.
Further incision with removal of clot.
Use 0.25-in. packing material to pack any space left by the removal of the clot, taking care not to pack tightly (see the video below).
Gauze packing after procedure.
Dress the wound with 4-in. × 4-in. gauze pads folded over once and taped into place in a transverse fashion (see the images below).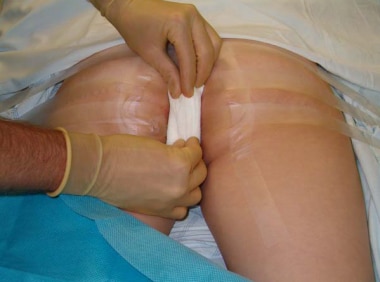 Dressing after excision.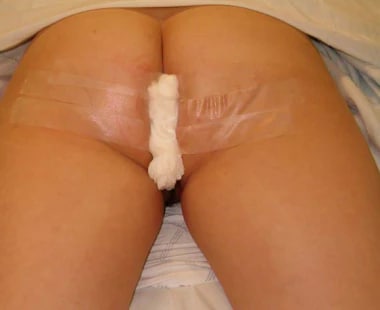 Dressing after excision.
Postoperative Care
Patient should start sitz baths as soon as possible. Sitz baths should be taken three or four times a day for 20 minutes at a time in warm but not hot water. Packing gauze can be removed in 48 hours if it has not yet fallen out.
Acetaminophen or ibuprofen should be prescribed for pain control. Avoid opiate analgesics because of constipating and, thus, stool-hardening effects. If opiates are felt necessary, stool softeners and/or laxatives must be used in conjunction. Antibiotics are not essential. The patient should remain well hydrated and take a stool softener to avoid traumatic passage of feces. This should be continued for 2-4 weeks.
Complications
The following are potential complications of thrombosed external hemorrhoid excision:
Bleeding - Probably the most common complication of this procedure, bleeding can usually be well controlled with direct pressure; if hemostasis is not obtained with direct pressure alone, either silver nitrate cauterization or a figure-eight stitch with an absorbable suture can be used

Infection – The infection rate is not known but is believed to be lower than 5%; prophylactic antibiotics are not routinely indicated

Perianal skin tag - This is a common benign complication after the incised area has healed

Stricture - This is an uncommon complication that may be prevented by avoiding the underlying external anal sphincter muscle

Incontinence - This is an uncommon complication that may be prevented by avoiding the underlying external anal sphincter muscle

Pain - This is a common but avoidable complication that generally is completely preventable with any combination of parenteral and local anesthesia, with or without procedural sedation
What would you like to print?