Clinical Presentation
The greatest danger in the emergent management of lead toxicity is failure to recognize the possibility of lead poisoning. This is not uncommon, because the symptoms and signs of lead toxicity are subtle and easily overlooked. [1]
One case developed after a child was seen in several hospital emergency departments (EDs), presenting with the symptoms of poor appetite, vomiting, and sore throat. After a throat culture obtained at 1 ED revealed beta-hemolytic streptococcus, the child received appropriate penicillin therapy, only to return several days later actively convulsing with a lead level higher than 170 μg/dL.
Gonulalan et al report that chronic lead intoxication (mean, 71.5 mo; range, 6-360 mo) is associated with erectile dysfunction and depression, as determined based on the erectile function domain (EFD) and Beck Depression Inventory (BDI), respectively. [2]
It is vital to diagnose and treat other family members or friends with similar lead exposure. Lead toxicity or encephalopathy should be suspected in patients presenting with afebrile seizures. However, lumbar puncture performed on patients with lead encephalopathy and increased intracranial pressure can precipitate cerebral herniation and death.
Consultation with a clinical toxicologist or a physician conversant with treating lead poisoning is beneficial. Consultations with a hematologist and a nephrologist may be helpful. The local poison control center may provide useful information to facilitate treatment and follow-up.
Initial Management
Treatment of lead poisoning consists of separating the child from the source of lead exposure. Chelation is used only when separation fails to drop the lead fast enough or far enough or when the lead level is in the potentially encephalopathogenic range (> 60 μg/dL).
If the patient is comatose or seizing, the airway must be protected. Aside from initial workup and treatment, immediate transportation to a hospital with experienced personnel and facilities for treating patients with lead poisoning is imperative.
Initial therapy is based on the history, the likelihood of actual lead toxicity, the symptoms present, and the physical examination (see the images below). All patients should be offered appropriate symptom relief. Several guidelines and recommendations on prevention, treatment, diagnosis, and screening are available from the American Academy of Pediatrics (AAFP), [3] the Centers for Disease Control and Prevention (CDC), [4, 5] and the United States Preventive Services Task Force (USPSTF). [6]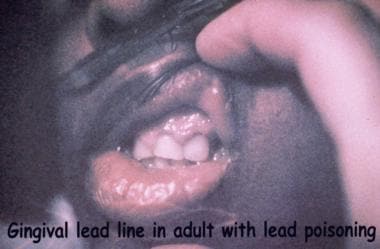 Lead line on the gingival border of an adult with lead poisoning.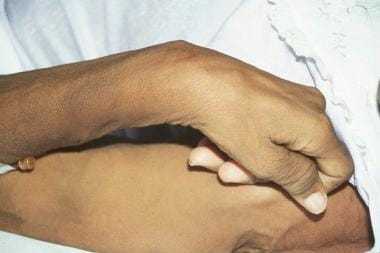 Wrist-drop in adult with lead poisoning and renal failure.
The following measures are indicated for severely symptomatic patients with lead poisoning:
Begin an intravenous (IV) drip of normal saline

Obtain laboratory work (see the first image below) and imaging studies (see the second and third images below) without delay

In a child with acute lead ingestion, consider placing an orogastric or nasogastric catheter to enable whole-bowel irrigation (WBI) with

polyethylene glycol

Do not delay administration of chelation therapy to clear any pica from the gut; immediately institute chelation therapy if lead poisoning is seriously considered; simultaneously initiate therapy to evacuate the lead-laden particles from the gastrointestinal (GI) tract

Peripheral smear taken from an 8-year-old Pakistani girl who presented with an acute hemolytic anemia and a lead level of 125 mcg/dL.

Growth arrest lines, also known as lead lines, in bones of a child who recovered from lead poisoning.

Abdominal flat plate showing multiple radio-opaque foreign bodies including paint chips and an earring.
Patients who do not have severe poisoning or in whom the diagnosis is unclear can be treated symptomatically while laboratory work results are pending.
Patients who have lead levels below the range that is considered potentially encephalopathogenic (ie, < 60 μg/dL) and who can successfully be kept away from further lead exposure can probably be treated on an outpatient basis.
Symptomatic pregnant patients with elevated lead levels should be treated with chelation in consultation with and under the supervision of a medical toxicologist. Treatment of asymptomatic pregnant patients with elevated lead levels should not be initiated without consultation with a medical toxicologist. Only very limited data are available on the teratogenicity of chelation therapy.
Chelation Therapy
When separation from the lead source does not suffice or the lead level is in the encephalopathogenic range, chelation therapy may be employed. The drugs of choice in treating lead poisoning are all chelators. The term is derived from the Greek word chēlē ("claw"); chelators form a chemical claw around the heavy metal and allow them to be excreted. Two parenteral and 2 oral chelators may be used.
Dimercaprol, also known as BAL (British antilewisite), is the prototype chelator. A bisulfide molecule, this lipid-soluble drug must be administered intramuscularly (IM). It has the typical sulfide odor, and patients often complain of the taste and bad feeling when the drug is administered. Calcium disodium edetate (CaNa2 EDTA) may be used IM or intravenously (IV); in many centers, the IM route has been abandoned in favor of a continuous IV drip that appears to improve outcome and decrease the adverse effects of the IM route.
Some controversy exists regarding the use of parenteral CaNa2 EDTA and the possible increase in brain lead in the first 24 hours of therapy. [7, 8, 9] Chisolm, in his classic article describing the improvement in the outcome of children with symptomatic lead poisoning, reported that children often deteriorated during the early stages of treatment and postulated that this deterioration was due to shifts in lead subsequent to the use of CaNa2 EDTA. [10] Accordingly, he suggested combined therapy including both BAL and EDTA.
No significant studies have been undertaken to allow any evidence-based decision on whether this approach is warranted. The author is aware of at least 3 patients whose clinical course deteriorated during the first 3 days of therapy with CaNa2 EDTA chelation and in whom severe hyponatremia and elevated vasopressin levels were found. Thus, use of combined therapy for the first few days to prevent such deterioration may be prudent.
The 2 oral chelators currently used in the United States are D-penicillamine and succimer. Although the US Food and Drug Administration (FDA) approved succimer for use in children with lead levels higher than 45 μg/dL, D-penicillamine has not yet been approved, despite its widespread use for the past 2 decades. Because lead impacts gastrointestinal (GI) motility, the use of an oral chelator with significantly increased lead levels (eg, > 60 μg/dL) seems counterintuitive and has not been studied for efficacy.
Some controversy exists regarding the use of chelation while there is continued exposure either to external lead sources or to lead possibly present in the GI tract. [11, 12, 13] Although it has long been the dogma that chelation should not be delayed to empty the intestines, just how to chelate in such a circumstance has not been subjected to scientific investigation. The controversy regarding possible redistribution of lead to brain during EDTA therapy adds to this conundrum.
In commenting on children with moderate levels of lead in the blood without encephalopathy, Chisolm suggested that there is no evidence that chelation with EDTA does anything to lower the brain lead level. [14] While studying the effects of treatment with the chelator succimer in the primate model, Cremin et al failed to find a significant effect on brain lead levels with chelation with this agent beyond that achieved simply by separation from the source of lead. [15]
Another chelator, 2,3-dimercaptopropane-1-sulfonic acid sodium salt (DMPS), is available in Europe both orally and parenterally. It has not been approved or licensed in the United States, but it has been used in various forms in alternative medicine clinics.
The use of multiple chelators at once has often been suggested, but data suggest that it may not be more advantageous than the use of a single chelator. [16]
Some have suggested the use of alternative medicines, such as various vitamins and other antioxidants. Data suggest that this approach does not alter the efficacy of chelation with standard medications. [16, 17]
It must be kept in mind that all chelators have nonspecific effects, which means that they will chelate other metals as well as lead. Thus, chelation must be carefully considered according to the principle of primum non nocere ("first, do no harm"). [18]
Further Inpatient Care
Careful attention to renal and hepatic function is important during the administration of chelation therapy. Fluid and electrolyte levels must be monitored carefully because fluid shifts may occur during therapy.
Reports from the 1960s have documented cases of children whose condition deteriorated after the initiation of chelation therapy. Several children have been reported to develop the syndrome of inappropriate secretion of antidiuretic hormone (SIADH) shortly after beginning chelation therapy.
All patients must have careful follow-up at weekly intervals to watch for unexpected reexposure or reequilibration of lead from bony stores after discontinuance of chelation.
Considerations for discharge include the following:
The source of lead must have been determined and the possibility of reexposure eliminated

If outpatient chelation is indicated, the medication must be in the hands of the individual responsible for administration of the medication

The individual must demonstrate knowledge of dosing and the ability to dose the patient

The lead level must have dropped an appreciable amount during inpatient chelation therapy
Adjunctive Care
Recently, evidence has accumulated that lead exerts oxidative stress by both increasing the production of reactive free radicals and decreasing the natural antioxidant mechanisms by depleting the natural body stores of such and interfering with the manufacture of such. [19] In addition, it is believed that lead competes with zinc binding sites of many enzyme systems, thus causing deficiency in their functionally. Evidence also suggests that lead interferes with the viscosity of blood and various rheological parameters, leading to hemolysis. [20]
Therefore, antioxidants, which although have not been shown to enhance the effect of chelators, may have a role in helping restore antioxidant activity and thus mitigate some symptoms and signs. Since most recommended antioxidants are considered safe, the use of them adjunctive to chelation or at levels of lead below those at which chelation would be indicated, may be beneficial.
What would you like to print?