Presentation
History
Most plants involved in exposures reported to poison control centers are identified. However, plants often remain unidentified when patients come to the ED because of concern regarding plant ingestion or symptoms following plant ingestion or exposure.
Because toxic principles of plants may vary greatly by season and geography, systematic evaluation is invaluable for determining the etiology of the patient's symptoms and identifying the potential plant toxin. Generally, this is the case when describing circumstances surrounding the toxicity to the poison center or consulting toxicologist over the telephone.
Emergency physicians must obtain accurate history to determine extent of exposure and subsequent risk of disease. The following items may provide important information:
Name of plant (note that common names vary considerably by region)

Actual plant (if available, allows for detailed description of features)

Amount ingested or exposed

Duration of time since exposure

Initial symptoms and time between exposure and symptom onset

Past medical history, current medication, and allergies (These may alter host response and risk.)
Physical Examination
A thorough examination focusing on existence or development of toxidromes (eg, anticholinergic syndromes, nicotinic syndromes) may be helpful in identifying the general class of toxin(s). It is very important to repeat this evaluation over time (generally several hours) to follow the evolution of symptoms and response to treatment.
Many plants cause nonspecific gastrointestinal upset. Possible poison hemlock ingestion (see image below) is suggested when gastrointestinal upset is accompanied by early onset of increased secretions followed by nicotinic syndromes such as respiratory difficulty, altered mental status, and possibly seizures.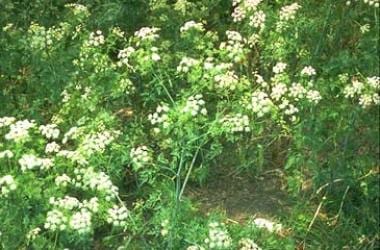 Hemlock. Photo by Cornell University Poisonous Plants Informational Database.
Plant ingestion alone is unlikely to cause isolated altered mental status.
Physicians must always consider other causes of acute altered mental status, such as hypoglycemia, co-ingestants, concomitant trauma, or infection.
What would you like to print?