Overview
Background
Plants have evolved highly complex systems of defense against most of their natural enemies (eg, insects, animals). At the very least, these defenses make many plants unpalatable; however, some can be fatal to the inexperienced forager. [1] See the image below.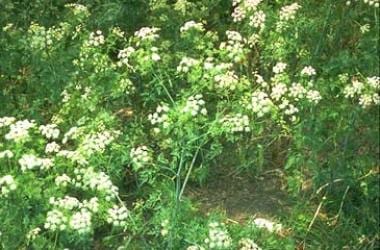 Hemlock. Photo by Cornell University Poisonous Plants Informational Database.
Throughout human history, plants have played pivotal roles as medicines and poisons. Our medical predecessors may not have known the exact mechanisms involved, but they did recognize various plants as instrumental for medical treatment and as instruments of murder. With current technology, we finally are able to peer into plants and see their vast arsenal of chemicals, including glycosides, alkaloids, oxalates, and resins.
When considering poisoning by plant resin, always be aware of possible co-intoxicants, which may blur the clinical picture. Such co-intoxicants include pharmaceutical and illicit drugs, herbicides, fungicides, insecticides, fertilizers, and artificial plant hormones.
Examples of unintentional toxic plant ingestion include the following:
Hikers who mistake poisonous plants for nutritious ones

Herbalists who seek natural remedies or natural highs and end up with poisonous concoctions

Children who are attracted to brightly colored fruits and leaves of poisonous plants (This group accounts for the most calls to poison centers regarding plant toxicity.)
See 11 Common Plants That Can Cause Dangerous Poisonings, a Critical Images slideshow, to help identify plant reactions and poisonings.
Pathophysiology
Resins are a diverse group of chemical compounds that share chemical characteristics, such as insolubility in water, solidity at room temperature, and lack of nitrogen group. Resin compounds formed with sugars are called glycoresins; those formed with oils are called oleoresins. Latex is a term used to describe these toxins when found in emulsions (ie, urushiols, which are catechol derivatives) in ducts of plants. They are released and activated when structural damage to the plant occurs.
Epidemiology
Frequency
United States
While some individuals ingest toxic plants to attempt suicide, most present to the ED after unintentional toxic plant ingestion.
The 2011 Annual Report of the American Association of Poison Control Centers' National Poison Data System (NPDS) documented 47,561 plant exposures. Listed below are 25 of the most common plants, which accounted for 37.5% of all plant exposures. [2] The top 3 or 11.5% of all exposures were for unknowns. This reflects the difficulty in identification. See the following:
Plants, general unknown -2,480

Unknown botanical name -1,679

Botanical terms unknown -1,299

Phytolacca americana (L) - 1,274

Ilex spp (not otherwise specified) – 922

Euphorbia pulcherrima (wild) - 658

Cherry (not otherwise specified) - 610

Toxicodendron radicans (L) – 584

Plants (cardiac glycosides) – 569

Zantedeschia aethiopica – 507

Berry (not otherwise specified) – 482

Narcissus pseudonarcissus (L) – 426

Plants, toxicodendrol – 337

Unknown botanical name – 318
Mortality/Morbidity
Five deaths were reported in 2004, which represents 0.007% of all plant exposures.
Of all plant exposures reported, only 30% had outcomes reported. Sixty-six percent of the reported outcomes were asymptomatic.

Ninety-five percent of all plant exposures reported were unintentional.
Age
Approximately 74% of plant exposures reported to poison centers in 2004 involved children younger than 6 years.
What would you like to print?