Workup
Laboratory Studies
Consider performing a urinalysis if the problem is not clearly musculoskeletal or an exacerbation of chronic back pain.
Perform a complete blood count (CBC) and erythrocyte sedimentation rate (ESR) if the patient is febrile or if an epidural or spinal abscess, or osteomyelitis is suspected. While ESR has moderate specificity, the sensitivity is relatively high in cases of abscess, and it can be used as a screening test.
Perform coagulation studies if patient is on an anticoagulant.
Other laboratory studies are rarely needed unless a disorder other than back pain is strongly suspected.
Imaging Studies
The American College of Radiology (ACR) has come up with appropriateness criteria for low back pain, including the following [5] :
Uncomplicated acute low back pain and/or radiculopathy are benign, self-limited conditions that do not warrant any imaging studies.

MRI of the lumbar spine should be considered for those patients presenting with red flags raising suspicion for a serious underlying condition, such as cauda equine syndrome, malignancy, or infection.

In patients with a history of low-velocity trauma, osteoporosis, or chronic steroid use, initial evaluation with radiographs is recommended.

In the absence of red flags, first-line treatment for chronic low back pain remains conservative therapy with both pharmacologic and nonpharmacologic (eg, exercise, remaining active) therapy.

If there are persistent or progressive symptoms during or following 6 weeks of conservative management and the patient is a surgery or intervention candidate or diagnostic uncertainty remains, MRI of the lumbar spine has become the initial imaging modality of choice in evaluating complicated low back pain.

MRI is the imaging procedure of choice in patients suspected of cord compression or spinal cord injury.

Patients with recurrent low back pain and history of prior surgical intervention should be evaluated with contrast-enhanced MRI.
Lumbosacral spine series are expensive and expose the reproductive organs to significant radiation. Annually, 7-8 million such tests are obtained, but most have little value in directing therapy, particularly among adults younger than 50 years. Osteophytes are the most frequently seen abnormality of plain films followed by intervertebral disc space narrowing. Both increase with age. Disc space narrowing appears to be more frequent in women. Disc space narrowing at 2 or more levels is strongly associated with back pain pathology. [23]
Unless a history of traumatic injury or systemic illness is present, such films should be obtained only for suspicion of malignancy or infection. Malignant involvement of vertebral bodies can be evident on plain film when as little as 30% of the vertebral body has been replaced. Other indications that suggest the need for radiographic imaging include chronic steroid use and acute onset of pain in patients older than 50 years or in the pediatric age group. The physician may also consider obtaining radiographs in patients whose cases involve (or potentially involve) litigation or for patients seeking compensation.
CT and MRI are generally considered the studies of choice for more precise imaging of the vertebrae, paraspinal soft tissues, discs, or spinal cord. CT images cortical bone with higher resolution and can delineate some fractures better than MRI. [24] MRI is generally the preferred imaging modality for detecting disc, cord, or soft tissue abnormalities. See the image below.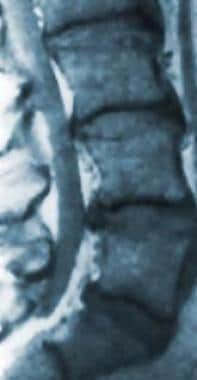 Magnetic resonance image of the lumbar spine. This image demonstrates a herniated nucleus pulposus at multiple levels.
Ultrasonography may be useful if the differential diagnosis includes appendicitis, a pathologic pelvic process, or abdominal aneurysm. [44]
True emergencies that necessitate imaging include the following:
Patients with a history of malignancy and new evidence of nerve entrapment

Patients with back pain associated with paralysis or gross muscle weakness

Patients with bilateral neurologic deficits associated with bowel or bladder function loss

Patients on anticoagulants with sudden onset of back pain

Postoperative patients with a recent lumbar laminectomy or hip replacement
Improvement occurs in almost all patients within 4-6 weeks, except those with infection, occult malignancy, or systemic illness. If pain fails to significantly improve or resolve in this time frame, imaging is always indicated. [25]
Other Tests
Perform the straight leg raising test with the patient in a supine position. Record the response to raising each leg. An approximation of the test may be performed with the patient sitting and each leg straightened at the knee. The examiner should take care to make sure that the quadriceps muscle is relaxed while passively raising the leg to ensure that the sciatic nerve is being adequately stretched during the testing. If the quadriceps is contracted, it will take the pressure off the sciatic nerve and may give a false-negative result. A positive test is when raising of either the ipsilateral or contralatral leg results in radiation down the ipsilateral leg.
The stoop test helps distinguish true claudication from pseudoclaudication. Patients with true claudication sit down to rest when pain occurs, while patients with pseudoclaudication attempt to keep walking by stooping or flexing the spine to relieve the stretch on the sciatic nerve.
What would you like to print?