Treatment
Emergency Department Care
Do not delay reduction in limbs with obvious vascular impairment. Only patients with good peripheral pulses should undergo prereduction radiographs. Reduction is straightforward and often easily accomplished in the ED. After adequate sedation, longitudinal traction will relocate the majority of knee dislocations. Prereduction and postreduction photos of a lateral knee dislocation are shown below.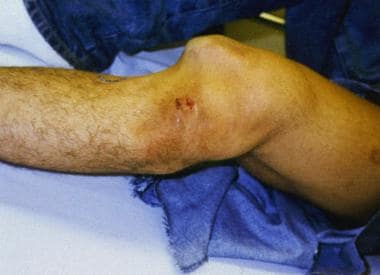 Lateral knee dislocation (before reduction).
Lateral knee dislocation after reduction.
Posterolateral dislocations are particularly difficult and often require operative reduction. This is especially true when the medial femoral condyle button-holes through the medial aspect of the joint capsule and/or MCL — an occurrence that is often accompanied by a "dimple sign" overlying the medial aspect of the knee.
After reduction, splint the lower extremity in approximately 20 degrees of flexion to avoid postreduction re-dislocation, apply ice, and keep the knee elevated. Postreduction radiographs should be obtained, preferably before further ligamentous stressing/assessment.
Postreduction hard signs of arterial injury should prompt emergent vascular surgical intervention that should not be delayed for arteriography. In this setting, arteriograms may indeed be contributory to the surgical decision matrix but can be performed in the operating room by the vascular surgeon with less contrast administration than traditional arteriography tends to use.
All reduced knee dislocations without hard signs of arterial injury should be assessed with ABI/API measurements. Any reading of less than 0.90 should prompt further imaging (ie, arteriography vs CT angiography vs duplex sonography), which should be decided upon in conjunction with the vascular consult.
All knee dislocations, regardless of emergent revascularization needs, should be admitted for serial perfusion checks.
What would you like to print?