Overview
Background
Carpal dislocations represent a continuum of wrist injury that can lead to lunate or perilunate dislocation. The lunate cup commonly is directed in a volar direction in dislocation because of the mechanism of the injury. Perilunate dislocations result from dislocation of the distal carpal row. [1] The capitate normally rests within the lunate cup, as seen on a lateral view. With perilunate dislocations, the capitate is seen most commonly as dorsal, but it also may be volar to the lunate on lateral x-ray evaluation. As a result of the stresses involved, scaphoid fractures often accompany perilunate dislocation. [2, 3] Carpal instability may take many forms and represents a spectrum of injury including scapholunate dissociation, lunate and perilunate dislocations, scaphoid fracture, and other intercarpal instabilities. A lunate dislocation is shown in the radiograph below.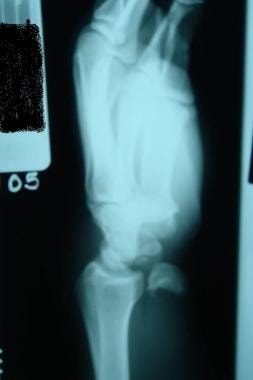 Dislocations, wrist. Lateral view of a lunate dislocation, with the classic teacup sign.
For more information, see Medscape's Orthopaedics Resource Center.
Pathophysiology
The mechanism of injury is usually a fall onto an outstretched hand with hand rotation, which may lead to a variety of injuries. These injuries range from scapholunate strain to carpal dislocation, with scaphoid fracture at the end of the spectrum. Unfortunately, most of these injuries are not diagnosed in the ED. The injury may lead to chronic pain and instability of the wrist. [4, 5, 6]
Epidemiology
Frequency
United States
Incidence of wrist injuries is estimated as 2.5% of ED visits. Wrist dislocations represent a very small portion of these visits. Because of this small proportion of wrist dislocations, they can be easily missed on initial presentation to the ED.
Mortality/Morbidity
The morbidity of wrist dislocations is tied to the frequently missed diagnosis of lunate or perilunate dislocation in the ED. [7] Often, patients are not diagnosed with these injuries until weeks following the initial injury.
Many patients with undiagnosed wrist dislocation have chronic pain.
Carpal instability, including radiocarpal instability, is a frequent complication.
Avascular necrosis of the lunate, Kienbock disease, is a potential complication of lunate dislocation.
What would you like to print?