Treatment
Emergency Department Care
Care for an amputated part of the fingertip includes the following:
Cover in a saline-soaked gauze wrap.

Place amputated part in a watertight bag.

Place watertight bag with amputated part on water and ice for preservation.

To avoid cold injury, do not place the amputated part directly on ice.
ED care
Preserve length, padding, and sensation of finger to the degree possible.
Preserve proper nail growth capacity and function by paying specific attention to the eponychium.
Prevent infection by considering prophylactic antibiotics.
Minimize joint stiffness.
Limit employment disability.
Use a digital block to provide local anesthesia and avoid further swelling of the fingertip with direct infiltration of anesthesia into the affected area.
Lacerations
Suture simple lacerations with 5-0 or 6-0 nylon. Subcutaneous or deep dermal sutures are not indicated.
Remove nail and inspect matrix when fingertip lacerations involve nail and injuries that avulse, split, or disrupt it. Replace all retrievable fragments of nail matrix as free grafts.
Repair nail matrix according to the following steps: (1) Administer anesthesia with a digital block and establish a bloodless field with a Penrose drain. (2) Remove nail.
See the image below.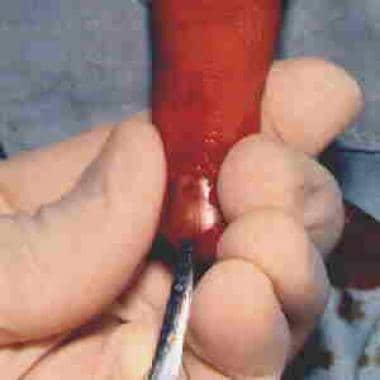 Removal of the nail plate with iris scissors.
Debride gently.
Clean and remove all foreign bodies.
Repair nail matrix meticulously with fine absorbable suture (6-0 Monocryl).
(See the image below.)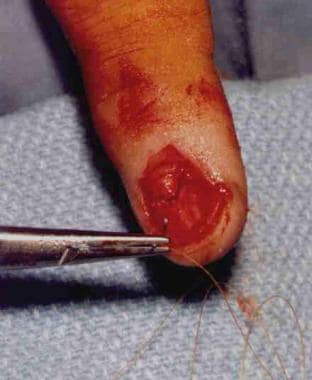 Suturing of a nailbed laceration.
Reinsert nail plate or substitute.
Tack the nail to the paronychia using suture material (6-0 Monocryl) or use a topical adhesive (eg, Histoacryl blue, 2-Octyl-cyanoacrylate) to secure the nail plate in place of sutures. Chloramphenicol ointment has also been suggested as an adhesive.
Apply sterile nonadherent dressing [8, 9, 10, 11] and splint.
Subungual hematoma
Use electrocautery or a heated paperclip. A sharp instrument, such as an 18-gauge needle, should be avoided to prevent deep soft tissue injury.
For patients who have significant crush injuries or subungual hematomas that involve lacerations to skin-fold or disrupt the nail, remove the nail and inspect the matrix.
Conservative treatment without nail removal is recommended for patients with closed hematomas and an intact nail with no laceration to skin fold or nail disruption. [12]
Conservative treatment also is indicated for crush injuries that fracture the terminal phalanx but do not cause a subungual hematoma.
Fingertip amputations
Treatment is either surgical or conservative. The boundary between surgical and conservative treatment depends on the extent of involvement of the pulp, nail, and bone. Various surgical methods are used for amputation injuries, including simple revision amputation, full- or partial-thickness skin grafts, local flaps, distal flaps, kite flaps, and neurovascular island pedicle flaps. [13, 14, 15, 16, 17]
Distal fingertip amputations may be treated conservatively in the ED. Various treatments may be provided in the ED depending on the emergency physician's skills, training, and time availability. However, for distal amputations that involve significant tissue loss, the physician should discuss a treatment plan with the follow-up hand surgeon.
Steps for conservative therapy
Administer anesthesia with a digital block and establish a bloodless field with a Penrose drain.
Clean thoroughly with sterile solutions.
Remove protruding bone with a bone rongeur to a level 3-5 mm below that of surrounding tissue.
Apply sterile nonadherent dressing over the amputated part.
Removal of splinter under nail
Administer anesthesia with a digital block.
Unroof the splinter by trimming the nail with iris scissors.
Epinephrine digital injections
Most patients who received epinephrine digital injections were asymptomatic or had minor effects. Typically, no significant systemic effects occurred. [18]
Treatment, although rarely required, may include warm water soaks, nitroglycerine paste, or local phentolamine injections.
What would you like to print?