Workup
Imaging Studies
Radiographic evaluation is indicated in the following:
Patients who exhibit neurologic deficits consistent with a cord lesion

Patients with an altered sensorium from head injury or intoxication

Patients who complain about neck pain or tenderness

Patients who do not complain about neck pain or tenderness but have significant distracting injuries
Recent literature has examined the need for c-spine imaging in patients who are low risk for unstable fracture or ligamentous injury. The Canadian C-Spine Rules (CCR) and the National Emergency X-Radiography Utilization Group (NEXUS) criteria allow clinicians to "clear" low-risk patients of c-spine injury, obviating the need for radiography. Additionally, a model was developed specifically for injured children. [33, 1, 17, 8]
To be clinically cleared using the CCR, a patient must be alert (GCS 15), not intoxicated, and not have a distracting injury (eg, long bone fracture, large laceration). The patient can be clinically cleared providing the following:
The patient is not high risk (age >65 y or dangerous mechanism or paresthesias in extremities).

A low risk factor that allows safe assessment of range of motion exists. This includes simple rear end motor vehicle collision, seated position in the ED, ambulation at any time posttrauma, delayed onset of neck pain, and the absence of midline cervical spine tenderness.

The patient is able to actively rotate their neck 45 degrees left and right.
The NEXUS criteria state that a patient with suspected c-spine injury can be cleared providing the following:
No posterior midline cervical spine tenderness is present.

No evidence of intoxication is present.

The patient has a normal level of alertness.

No focal neurologic deficit is present.

The patient does not have a painful distracting injury.
Both studies have been prospectively validated as being sufficiently sensitive to rule out clinically significant c-spine pathology. The CCR were shown to be more sensitive than the NEXUS criteria (99.4% sensitive vs 90.7%), and the rates of radiography were lower with the CCR (55.9% vs 66.6%). [34] Debate still exists as to which criteria are more useful and easier to apply.
A survey of 76 trauma care physicians found that altered mental state, intoxication, and distracting injury were the most important contraindications to cervical spine clearance in children. Regarding imaging, 54% considered adequate plain imaging to be 3-view cervical spine radiographs (anterior-posterior, lateral, and odontoid), whereas 30% considered CT to be the most sensitive modality for detecting unstable cervical spine injuries. [35]
A standard trauma series is composed of 5 views: cross-table lateral, swimmer's, oblique, odontoid, and anteroposterior.
For pediatric patients
Cross-table lateral view
Approximately 85-90% of cervical spine injuries are evident in lateral view, making it the most useful view from a clinical standpoint.
A technically acceptable lateral view shows all 7 vertebral bodies and the cervicothoracic junction. Approach analysis of this view methodically to avoid missing significant pathology.
Check alignment of cervical spine by following 3 imaginary contour lines. See the image below.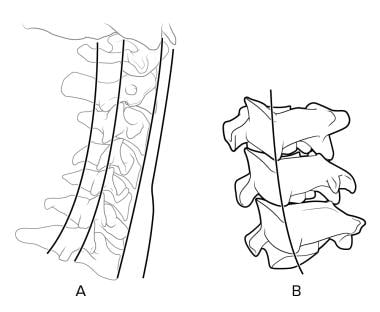 (A) Normal lateral projection shows the relationships of anterior, posterior, and spinolaminar lines and prevertebral spaces. (B) Normal oblique projection shows the normal appearance of the laminae as shingles on a roof forming a regular elliptical curve with equal interlaminar spaces.
The first line connects the anterior margins of all the vertebrae and is referred to as the anterior contour line. The second line should connect the posterior aspect of all vertebrae in a similar way and is referred to as the posterior contour line. The third line should connect the bases of the spinous processes and is referred to as the spinolaminar contour line.
Each of these lines should form a smooth lordotic curve. Suspect bony or ligamentous injury if disruption is seen in the contour lines.
An exception occurs in young children who, because of immature muscular development, may have a benign pseudosubluxation in the upper cervical spine. An imaginary straight line should connect the points bisecting the base of the spinous processes of C1, C2, and C3. In pseudosubluxation, these imaginary points should not be displaced more than 2 mm in front of or behind the straight line.
Check individual vertebrae thoroughly for obvious fracture or changes in bone density. Areas of decreased bone density are seen in patients with osteoporosis, osteomalacia, or osteolytic lesions and may represent weak areas predisposed to injury. Areas of increased bony density may be seen with osteoblastic lesions or may represent compression fractures of an acute nature.
Look for soft tissue changes in predental and prevertebral spaces. The predental space, also known as the atlantodental interval, is the distance between the anterior aspect of the odontoid and the posterior aspect of the anterior arch of C1. This space should be no more than 3 mm in an adult and 5 mm in a child. Suspect transverse ligament disruption if these limits are exceeded.
Prevertebral space extends between the anterior border of the vertebra to the posterior wall of the pharynx in the upper vertebral level (C2-C4) or to the trachea in the lower vertebral level (C6).
At the level of C2, prevertebral space should not exceed 7 mm.
At the level of C3 and C4, it should not exceed 5 mm, or it should be less than half the width of the involved vertebrae.
At the level of C6, prevertebral space is widened by the presence of the esophagus and cricopharyngeal muscle. At this level, the space should be no more than 22 mm in adults or 14 mm in children younger than 15 years.
Children younger than 24 months may exhibit a physiologic widening of the prevertebral space during expiration; therefore, obtain images in small children during inspiration to assess prevertebral space adequately.
If the prevertebral space is widened at any level, a hematoma secondary to a fracture is the most likely diagnosis.
Check for fanning of the spinous processes. This is evident as an exaggerated widening of the space between 2 spinous process tips and suggests posterior ligamentous disruption.
Check for an abrupt change in angulation of greater than 11 degrees at a single interspace. This also suggests bony injury with possible ligamentous involvement.
Swimmer's view
Occasionally, it is impossible to fully visualize all 7 cervical vertebrae and, more importantly, the cervicothoracic junction in a true lateral image.
Failure to fully visualize these areas has resulted in patient morbidity and successful malpractice litigation against emergency physicians.
A swimmer's or transaxillary view adequately exposes these areas for scrutiny.
Oblique view
This view also is considered a laminar view because most pathologic conditions assessed on it manifest with some disruption in the normal overlapping appearance of the vertebral laminae.
The normal structural appearance of the laminae is described as shingles on a roof, forming a regular elliptical curve with equal interlaminar spaces.
If interlaminar space between 2 continuous laminae is increased, suspect subluxation of the involved vertebrae.
Similarly, if the expected tiling of shingles is disrupted, suspect a unilateral facet dislocation.
A posterior laminar fracture should be evident as disruption of the body of a single shingle.
Odontoid view
This view is used to evaluate an area that is difficult to visualize in the cross-table lateral view because of shadow superimposition.
The most important structural relationship to evaluate in this view is alignment of the lateral masses of C1 with respect to the odontoid process.
Masses should be bilaterally symmetric with the dens and odontoid process and must be checked for fractures or lateral displacement.
Assess symmetry of the interspace between C1 and C2.
Anteroposterior view
This is the least useful view from a clinical standpoint.
A straight line should connect the spinous processes bisecting the cervical spine. If this is not seen, consider a rotation injury (ie, unilateral facet dislocation). Also consider a clay shoveler fracture if a spinous process appears vertically split.
Other Tests
The advent of readily available multidetector computed tomography has supplanted the use of plain radiography at many centers. Recent literature supports CT as more sensitive with lower rates of missed primary and secondary injury. [14] One series found 36% of patients with one injury on plain radiography had a second injury seen on CT only. Of these patients, 27% had a noncontiguous, anatomically distinct second injury. The same views generated by plain radiography (AP, lateral, open mouth) are generated via CT. These results are cause to reconsider guidelines for the implementation of CT as a primary diagnostic test. If plain radiograph findings are negative but clinical suspicion for fracture is high, films should be followed by CT.
One study determined that CT of the cervical spine may be overused for ground-level falls. The authors suggested that, in such cases, consistent application of clinical decision rules (eg, NEXUS and CCR) would reduce both costs and radiation dose exposure.if applied across all level I trauma centers. [36]
The American College of Orthopaedic Surgeons now recommends routine cervical spine screening via CT scan instead of plain radiography. Low-dose multidetector CT scanning has been found to be as sensitive and specific as standard dose multidetector CT scans. [37, 38]
Soft tissue injury (ie, unstable ligamentous injury) has traditionally been evaluated by flexion-extension views. MR is less dangerous and more sensitive for soft tissue injury than radiography. Limited availability makes familiarity with flexion-extension views essential. [39, 40]
Multidetector-row CT (MDCT) and MRI can be complementary, and both may be necessary to identify the injuries and to determine proper management. [41]
In a 5-year retrospective study of polytrauma patients who underwent MDCT, signs of significant ligament injury on CT at the craniocervical junction were identified as increased basion dens interval and widened facet joints. In the subaxial cervical spine, more than 50% subluxation of a facet joint and obscured posterior paraspinal fat pad were indicators of significant ligament injury. [5]
A recent association between cervical spine fractures and thoracolumbar spine fractures has been identified in victims of motor vehicle collisions (MVC). Based on this finding, it is now recommended that any MVC patient found to have a cervical spine fracture should undergo complete spine imaging. [3]
One study supported the findings in the literature that C1-C3 spine injuries have an increased association with vertebral artery injury. The authors noted, however, that CT angiography of the head and neck ordered off protocol had a low likelihood of being positive and that strict adherence to protocols for CT angiography of the head and neck can reduce costs and decrease unnecessary exposure to radiation and contrast medium. [42]
In a study by Goode et al, the National Emergency X-Radiography Utilization Study (NEXUS) criteria (NC) was compared with computed tomography (CT) as the gold standard to evaluate cervical spine (c-spine) fractures in elderly blunt trauma patients. According to findings, the authors suggested that NEXUS criteria are not an appropriate assessment tool when applied to severe blunt trauma patients, particularly in the elderly population, who had more missed injures than younger patients. They concluded that CT should be used in all blunt trauma patients regardless of whether they meet NEXUS criteria. [43]
What would you like to print?