Presentation
Complications
Cubitus varus
The most common complication for supracondylar fractures are cubitus varus or "gunstock deformity", which is a loss of the carrying angle and results in more of a cosmetic disability rather than a functional disability (see the image below).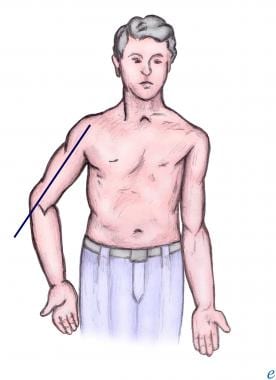 Cubitus varus.
Volkmann ischemia
This is a form of compartment syndrome that can lead to muscle ischemia and permanent muscle contracture, particularly occurring in children. Symptoms suggestive of this complication include pain with passive extension of the fingers, refusal to open the hand, and forearm tenderness.
Median nerve injury
Displaced supracondylar humerus fractures may lead to median nerve dysfunction. Rarely does this result in complete nerve transection, and full return of function is common.
Malunion
Angulated or displaced fractures that remain unreduced lead to functional and cosmetic deformities.
Radial head fracture
Nondisplaced fractures that are immobilized for prolonged periods of time may have permanently decreased range of motion.
Comminuted radial head fractures associated with undiagnosed distal radial-ulnar joint injuries can lead to permanent wrist injuries and loss of pronation/supination motion.
Olecranon fracture
An ulnar nerve injury, although rare, may be associated with a displaced olecranon fracture.
What would you like to print?