Follow-up
Further Outpatient Care
Supracondylar fracture
Refer patients with nondisplaced fractures to an orthopedist within 24 hours to evaluate and recheck neurovascular status.
Upon dissipation of edema, apply a long-arm cast that holds the elbow in 90° of flexion for approximately 6 weeks.
Radial head fracture
For uncomplicated fractures, begin range of motion exercises within 3-7 days to reduce the risk of permanent loss of motion from elbow joint contracture.
Intra-articular fractures, which may require radial head excision or fixation, should be seen by an orthopedist within 1 week for definitive management.
Olecranon fracture
Nonoperative fractures (minimally displaced with an intact extensor mechanism) can be treated with a splint and range of motion exercises within a few weeks.
Further Inpatient Care
Open fractures require extensive irrigation and appropriate prophylactic antibiotics, such as cefazolin and gentamicin.
Displaced supracondylar fractures require surgical intervention and continual monitoring of neurovascular status.
Inpatient & Outpatient Medications
As with all fractures, address adequate outpatient analgesia, especially during the first few days.
Acetaminophen, with codeine or hydrocodone, may be appropriate treatment.
Complications
Cubitus varus
The most common complication for supracondylar fractures are cubitus varus or "gunstock deformity", which is a loss of the carrying angle and results in more of a cosmetic disability rather than a functional disability (see the image below).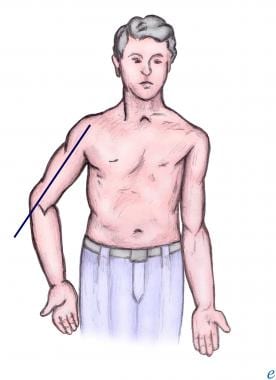 Cubitus varus.
Volkmann ischemia
This is a form of compartment syndrome that can lead to muscle ischemia and permanent muscle contracture, particularly occurring in children. Symptoms suggestive of this complication include pain with passive extension of the fingers, refusal to open the hand, and forearm tenderness.
Median nerve injury
Displaced supracondylar humerus fractures may lead to median nerve dysfunction. Rarely does this result in complete nerve transection, and full return of function is common.
Malunion
Angulated or displaced fractures that remain unreduced lead to functional and cosmetic deformities.
Radial head fracture
Nondisplaced fractures that are immobilized for prolonged periods of time may have permanently decreased range of motion.
Comminuted radial head fractures associated with undiagnosed distal radial-ulnar joint injuries can lead to permanent wrist injuries and loss of pronation/supination motion.
Olecranon fracture
An ulnar nerve injury, although rare, may be associated with a displaced olecranon fracture.
Prognosis
Supracondylar fracture
Children: Undisplaced fractures and properly managed displaced/angulated fractures result in no long-term functional deficits.
Adults: Usually, range of motion decreases somewhat but without functional deficit.
Radial head fracture
Usually, no functional loss occurs with nonoperative treatment.
Olecranon fracture
This fracture may result in loss of full extension but usually restores strength.
Olecranon fracture can be associated with post-traumatic arthritis of the elbow.
Most operative and nonoperative cases of olecranon fracture have a good outcome with no long-term deficits.
Patient Education
What would you like to print?