Workup
Imaging Studies
Anteroposterior (AP), lateral, and oblique radiographs of the elbow adequately visualize most elbow fractures. To detect subtle elbow fractures, it is key to systematically view elbow films looking at certain aspects of the elbow. [3, 5, 6, 7] In a study of plain radiographs in 3 emergency departments for acute, nonpenetrating elbow injuries in patients 5 years or older, the active 4-way range-range-of-motion test (full extension, flexion to 90°, full pronation, and supination) was found to be 99% sensitive for all injuries and 100% sensitive for all elbow injuries that required surgery. [5]
The majority of elbow fractures in the adult patient are nondisplaced radial head and neck fractures, which account for up to 30% of missed factures in studies of radiologic diagnosis accuracy in emergency departments. [6] Hamoodi, and colleagues reported that diagnostic accuracy improved significantly with the use of CT scans. [27]
In a study of ultrasonography performed by pediatric emergency physicians for elbow fractures, a positive ultrasound result had a 98% sensitivity and a 70% specificity. A positive result was defined as an elevated posterior fat pad or lipohemarthrosis of the posterior fat pad. [28]
MRI is widely used in cases of chronic elbow pain but has limited use for acute elbow trauma. In cases of continued pain despite conservative management, MRI can be invaluable for assessing collateral ligaments, common flexor and extensor tendon origins, articular cartilage, and occult bone lesions. [29]
Anterior humeral line
This is a line that is drawn along the anterior aspect of the humeral shaft on the lateral radiograph.
The line passes through the middle one third of the capitellum in bones that are not injured.
Only true lateral views should be used to assess this line.
For example, a supracondylar fracture changes the anterior humeral line as it passes through the capitellum.
Radiocapitellar line
This is a line that bisects the proximal radial shaft and should pass through the capitellum on every view.
Fat pads
On lateral films, the anterior fat pad normally lies against the anterior surface of the distal humerus. See the image below.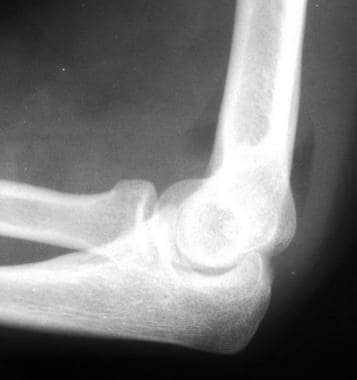 Anterior and posterior fat pads with radial head fracture.
A joint effusion displaces this fat pad anteriorly and produces the sail sign.
The posterior fat pad is not visible in films of the normal elbow; in patients with suspected elbow fracture, a posterior fat pad should be treated as a fracture.
Fat pads may be elevated if fluid is present from other conditions such as joint infection or inflammation. [30]
Ossification centers
Often, the pediatric elbow is difficult to evaluate due to the ossification centers of the elbow.
One common mnemonic for the order of appearance for the ossification centers of the elbow is CRITOE.
Table. CRITOE. (Open Table in a new window)
| | |
| --- | --- |
| Ossification Centers | Age of Appearance, y |
| Capitellum | 1-2 |
| Radial head | 4-5 |
| Internal (medial) epicondyle | 4-5 |
| Trochlea | 8-10 |
| Olecranon | 8-9 |
| External (lateral) epicondyle | 10-11 |
What would you like to print?