Overview
Background
This article discusses fractures of the femoral diaphysis. For proximal femur fractures (subtrochanteric to femoral head), see the article Fractures, Hip. For fractures of the distal femur (supracondylar to condylar), see the article Fractures, Knee.
The femur is the largest and strongest bone and has a good blood supply. Because of this and its protective surrounding muscle, the shaft requires a large amount of force to fracture. Once a fracture does occur, this same protective musculature usually is the cause of displacement, which commonly occurs with femoral shaft fractures. [1]
As with many orthopedic injuries, neurovascular complications and pain management are the most significant issues in patients who come to the ED. The rich blood supply, when disrupted, can result in significant bleeding. Open fractures have added potential for infection. [2]
The 3 types of femoral shaft fractures are as follows:
Type I - Spiral or transverse (most common)
Associated injuries are common.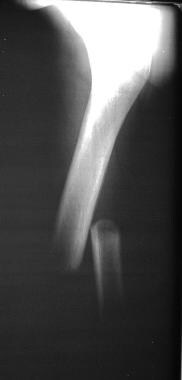 Anteroposterior radiograph of a femoral-shaft fracture in a 19-year-old man.
Pathophysiology
Diaphyseal fractures result from significant force transmitted from a direct blow or from indirect force transmitted at the knee. [3]
Pathologic fractures may occur with relatively little force. [4] These may be the result of bone weakness from osteoporosis or lytic lesions.
Epidemiology
Mortality/Morbidity
Morbidity and mortality rates have been reduced in femoral shaft fractures, mainly as the result of changes in methods of fracture immobilization. Current therapies allow for early mobilization, thus reducing the risk of complications associated with prolonged bed rest.
What would you like to print?