Overview
Practice Essentials
Diaphyseal femur fractures (femoral shaft fractures) result from significant force transmitted from a direct blow or from indirect force transmitted at the knee. These may be the result of bone weakness from osteoporosis or lytic lesions. The femur is the largest and strongest bone and has a good blood supply. Because of this and its protective surrounding muscle, the femoral shaft requires a large amount of force to fracture. Once a fracture does occur, this same protective musculature usually is the cause of displacement, which commonly occurs with femoral shaft fractures. [1, 2, 3, 4, 5, 6]
As with many orthopedic injuries, neurovascular complications and pain management are the most significant issues in patients who come to the ED with a femoral shaft fracture. The rich blood supply, when disrupted, can result in significant bleeding. Open fractures have added potential for infection. [7, 8, 4, 9]
The 3 types of femoral shaft fracture are as follows: type I (spiral or transverse [most common]), type II (comminuted), and type III (open). Associated injuries are common.
Diagnosis
History usually is obvious in cases of femoral diaphyseal fractures. Typically, patients describe a significant force applied to the extremity. Significant pain and deformity are reported as well. Causes include trauma, lytic lesions, cancer metastasis, Paget disease, bone cysts, and osteoporosis.
In a patient with a large, expanding hematoma, measure serial hematocrits and obtain type and crossmatch in case a blood transfusion becomes necessary. For patients who require open reduction and internal fixation (ORIF), obtain preoperative tests, including chest radiography and ECG.
Anteroposterior (AP) and lateral radiographic views of the femur normally are sufficient. As with all long-bone fractures, obtain images of the joint above and below the fracture. If a vascular injury is suspected, perform arteriography.
(See the images below.)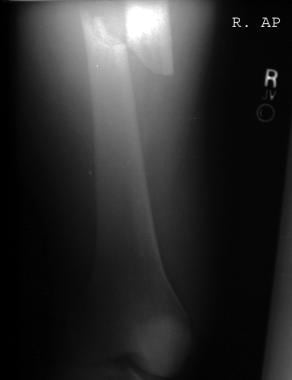 Anteroposterior radiograph of a femur fracture in a 45-year-old man.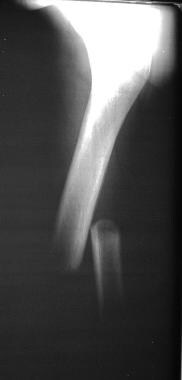 Anteroposterior radiograph of a femoral-shaft fracture in a 19-year-old man.
Treatment
Prehospital personnel should splint the extremity in the position it was found. If signs of neurovascular compromise are observed, the limb may be reduced after administering adequate analgesia. Well-aligned fractures, with or without neurovascular injury, can be immobilized by using a traction device. Hare or Thomas traction splints are most commonly used.
Apply wet sterile dressings over an open fracture. If the wound is grossly contaminated, sterile saline irrigation may be used to remove large contaminants.
Adults with a femur fracture are best treated with immediate operative fixation, typically intramedullary nailing. [10, 11, 12] In children, femoral shaft fractures constitute approximately 4% of all long-bone fractures. The preferred treatment for diaphyseal shaft fractures in the first or second year of life is spica casting or traction. For children 3 years of age, these fractures can be treated operatively or nonoperatively. In children older than 3 years, elastic stable intramedullary nailing is standard treatment. [6, 9, 13, 14, 15, 16, 17]
Depending on the stage of skeletal maturity, some adolescents may be treated with initial external fixation, intramedullary nailing, or compression screw plate fixation. [18, 19] In the presence of contraindications to surgery, this repair may be delayed for days without significant complications if leg length is maintained with traction. [20] ​Open fractures require immediate operative debridement followed by delayed intramedullary nailing. [21]
Transfer patients with femur fractures when the fracture is immobilized adequately. This is best accomplished with a traction device. As an alternative, use a pneumatic or posterior molded splint. Reasons for transfer include lack of appropriate orthopedic staff or operative facilities at the presenting center and associated serious injuries, which are common, that require a trauma center for ideal evaluation and management.
Morbidity and mortality rates have been reduced in femoral shaft fractures, mainly as the result of changes in methods of fracture immobilization. Current therapies allow for early mobilization, thus reducing the risk of complications associated with prolonged bed rest. [22, 23]
Emergently consult an orthopedic surgeon. Evidence of vascular or progressing neurologic compromise should prompt emergent consultation with a vascular surgeon. In some hospitals, the general surgeon may have privileges for vascular intervention.
AAOS guidelines for diaphyseal fracture in children
American Academy of Orthopaedic Surgeons (AAOS) guidelines for treatment of diaphyseal fractures in children include the following [6, 16] :
Strong evidence supports that children younger than 36 months with a diaphyseal femur fracture be evaluated for child abuse.

Moderate evidence supports early spica casting or traction with delayed spica casting for children age 6 months to 5 years with a diaphyseal femur fracture with less than 2 cm of shortening.

Limited evidence supports treatment with a Pavlik harness or a spica cast for infants 6 months and younger with a diaphyseal femur fracture, because their outcomes are similar.

Limited evidence supports the option for physicians to use flexible intramedullary nailing to treat children age 5-11 years diagnosed with diaphyseal femur fractures.

Limited evidence supports rigid trochanteric entry nailing, submuscular plating, and flexible intramedullary nailing as treatment options for children age 11 years to skeletal maturity diagnosed with diaphyseal femur fractures, but piriformis or near piriformis entry rigid nailing are not treatment options.

Limited evidence supports regional pain management for patient comfort perioperatively.

Limited evidence supports waterproof cast liners for spica casts are an option for use in children diagnosed with pediatric diaphyseal femur fractures.
For proximal femur fractures (subtrochanteric to femoral head), see the article Fractures, Hip. For fractures of the distal femur (supracondylar to condylar), see the article Fractures, Knee.
Prognosis
Patients who survive the initial trauma associated with the injury typically heal well. Early mobilization following intramedullary nailing greatly reduces complications associated with prolonged immobilization.
Age affects the speed and quality of recovery. Fractures may be caused by underlying medical conditions such as osteoporosis or cancer metastasis; these conditions may complicate recovery further. [24]
Patients older than 60 years with closed fractures of femur have a mortality rate of 17% and a complication rate of 54%. [10]
What would you like to print?