Workup
Laboratory Studies
No specific laboratory studies are indicated for femur fracture. In a patient with a large, expanding hematoma, measure serial hematocrits and obtain type and crossmatch in case a blood transfusion becomes necessary.
For patients who require open reduction and internal fixation (ORIF), obtain preoperative tests, including chest radiography and ECG.
Imaging Studies
Anteroposterior (AP) and lateral views of the femur normally are sufficient. As with all long-bone fractures, obtain images of the joint above and below fracture.
If a vascular injury is suspected, perform arteriography.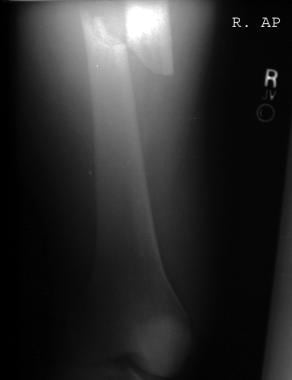 Anteroposterior radiograph of a femur fracture in a 45-year-old man.
What would you like to print?