Periprocedural Care
Equipment
Equipent required for lighted stylet–assisted tracheal intubation includes the following:
Lighted stylet (see the image below)

Supplemental oxygen

Ambu bag

Suction equipment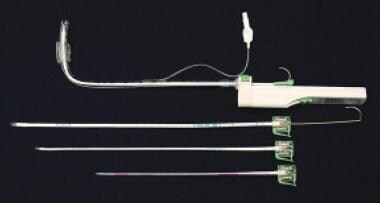 Transtracheal light.
Also required are the following:
Automated blood pressure cuff (set to cycle every 5 min)

Three-lead electrocardiographic (ECG) monitoring

Constant pulse oximetry

Intravenous access
Patient Preparation
Anesthesia
If the patient is awake, spray the oropharynx and hypopharynx with lidocaine or benzocaine spray, and administer sedation as indicated. Topical anesthesia may be achieved by use of lidocaine spray 10%, Cetacaine (benzocaine 14%, tetracaine 2%, butyl aminobenzoate 2%), or Hurricaine (benzocaine 20%).
Procedural sedation or rapid sequence intubation may also be required.
Positioning
If cervical spine injury is not a concern, place the patient's head and neck in a relatively extended position. This pulls the epiglottis away from the posterior pharyngeal wall and allows maximal exposure of the anterior neck, thereby enhancing visualization of the transilluminated light.
If cervical spine injury is a concern, place the patient's head in a neutral position. [15]
A towel roll beneath the shoulders aids in positioning, especially in obese patients or those with a short neck.
If there is difficulty passing the lightwand into the trachea, it may be hung up on the epiglottis, which can be lifted off the posterior pharyngeal wall with a jaw-lift maneuver. [16]
What would you like to print?