Overview
Background
In evaluating humerus injuries, being able to classify the fracture and if necessary, reduce, immobilize, and know when to seek orthopedic consultation is important.
Eighty percent of proximal humerus fractures are nondisplaced or minimally displaced, and therefore, can be managed nonoperatively. [1, 2, 3] Associated injuries are common in patients with osteoporosis. Distal humeral fractures are associated with ipsilateral proximal forearm fractures. Rarely, vascular or nerve injuries are associated with humerus fractures.
Radial nerve palsy associated with fractures of the shaft of the humerus is the most common nerve lesion complicating fractures of long bones. [4]
This article discusses fractures based on location: proximal and diaphyseal (midshaft).
For more information, see Medscape's Fracture Resource Center and Osteoporosis Resource Center.
Pathophysiology
Humerus fractures are caused by direct trauma to the arm or shoulder or by axial loading transmitted through the elbow. Attachments from pectoralis major, deltoid, and rotator cuff muscles influence the degree of displacement of proximal humerus fractures.
Humeral stress fractures occur with overhead throwing and occasionally with violent muscle contractions. These types of fractures are documented most commonly in baseball. As with other stress fractures, an increase in activity or stress on immature or unconditioned bone is the likely culprit. [5, 6, 7]
Epidemiology
Humeral diaphyseal fractures account for 1.2% of all fractures. [8] Proximal humerus fractures account for 5.7% of all fractures. [8]
Proximal humeral fractures are more common in elderly persons, with the average age of 64.5 years, [9, 10] and are the third most common fracture after hip fractures and distal radius fractures. [2, 11]
Humeral diaphyseal fractures occur in a slightly younger population, with the average age being 54.8 years. [9]
See the image below.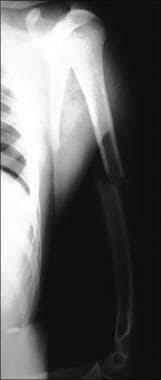 Diaphyseal humerus fracture.
Fracture patterns are similar across all ages, though older people are more prone to fracture because of osteoporosis. A humerus fracture in a child with an inconsistent injury mechanism should raise suspicion for abuse and trigger further investigation. Young patients presenting with humeral diaphyseal fractures after high-energy injuries frequently have multiple injuries. Approximately 5% of these patients with humeral diaphyseal fractures present with spinal fractures or complex foot fractures, and about 4% present have pelvic or proximal tibial fractures. [9] Older patients tend to present with other fractures in the ipsilateral arm, usually distal radius fractures. [9]
In an epidemiologic survey of 1800 low-energy humeral fractures in an emergency department in Parma, Italy, the following were identified [12] :
Predominance in women: 78%.

Fractures of the proximal humerus represented the largest majority of humerus fractures: >85 %.

Incidence progressively increased with age (more than 60-fold in women and 20-fold in men).

Simultaneous fractures (hip in particular) were frequent, especially after 85 years of age (1 out of 8 cases).
What would you like to print?