Treatment
Emergency Department Care
Management of a scapula fracture in the ED is generally the same as that for any trauma patient. Perform fluid resuscitation, stabilize the cardiopulmonary system, and treat life-threatening injuries. Most scapula fractures can be managed with closed treatment. More than 90% of scapula fractures have minimal displacement, primarily because of the thick, strong support provided by the surrounding soft tissues. Treatment is symptomatic. Short-term immobilization in a sling and swathe bandage is provided for comfort. [1, 2, 3, 4] ​Follow-up care with an orthopedic surgeon is advised in all cases because of the possibility of long-term complications such as bursitis and posttraumatic arthritis.
Body or spine fracture
Use of ice, analgesics, and sling and swath immobilization suffice for most fractures to the body or spine of the scapula. Early range-of-motion exercises are recommended.
Whereas most body or spine fractures can be managed conservatively, surgical management should be considered for significantly displaced fractures. [13]
Acromion fracture
Nondisplaced fractures of the acromion usually can be treated with sling immobilization, ice, and analgesics.
Displaced fractures and those associated with rotator cuff injuries often require surgical intervention, strategies depicted below.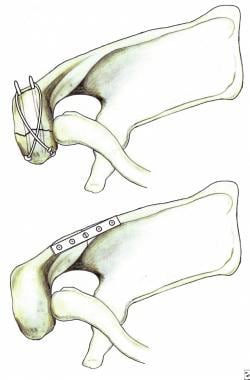 Fixation of acromion fractures. (A) tension band construct; and (B) plate-screw fixation (most appropriate for proximal fractures).
Neck fracture
Manage nondisplaced scapular neck fractures with a sling, ice, analgesics, and early range-of-motion exercises.
Fractures of the scapular neck can be divided into stable fractures, fractures with rotational instability, and fully unstable fractures. Accurate diagnosis can be helped by 3D CT reconstructions. Undisplaced or minimally displaced fractures may be treated nonoperatively. [15] Displaced neck fractures, as in the image below, require urgent orthopedic consultation for traction or surgical reduction. [16]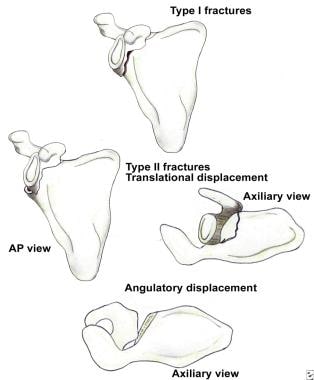 Classification of glenoid neck fractures. Type I includes all minimally displaced fractures. Type II includes all significantly displaced fractures (translational displacement greater than or equal to 1 cm; angulatory displacement greater than or equal to 40°)
Glenoid fracture
Small and minimally displaced glenoid rim fractures usually respond to conservative therapy with a sling, ice, and analgesics, followed by early range-of-motion exercises.
Large or significantly displaced fractures, as well as those associated with triceps impairment, often require surgical treatment.
All stellate glenoid fractures require early orthopedic consultation.
Coracoid fracture
Coracoid fractures respond well to conservative therapy with sling immobilization, ice, analgesics, and early mobilization.
What would you like to print?