Overview
Practice Essentials
Lower leg fractures include fractures of the tibia and fibula. Of these 2 bones, the tibia is the only weightbearing bone. Fractures of the tibia are frequently associated with fibula fracture because the force is transmitted along the interosseous membrane to the fibula. Causes include direct forces such as those caused by falls and motor vehicle accidents and indirect or rotational forces. [1, 2, 3, 4, 5]
The skin and subcutaneous tissue are very thin over the anterior and medial tibia; as a result, a significant number of fractures to the lower leg are open fractures. Even in closed fractures, the thin, soft tissue can become compromised. In contrast, the fibula is well covered by soft tissue over most of its course with the exception of the lateral malleolus.
The tibia and the fibula articulate at the proximal tibia-fibular syndesmosis. Fractures of the tibia can involve tibial plateau, tibial tubercle, tibial eminence, proximal tibia, tibial shaft, and tibial plafond. The common peroneal nerve crosses the fibular neck. This nerve is susceptible to injury from a fibular neck fracture, from the pressure of a splint, or during surgical repair. This can result in foot drop and sensation abnormalities.
Delayed union, nonunion, and arthritis may occur. Among the long bones, the tibia is the most common site of fracture nonunion. Limb loss may occur as a result of severe soft tissue trauma, neurovascular compromise, popliteal artery injury, compartment syndrome, or infection such as gangrene or osteomyelitis. Popliteal artery injury is a particularly serious injury that threatens the limb and is easily overlooked.
When examining a patient for a lower leg fracture, one should first examine the patient for edema, ecchymosis, and point tenderness. Gross deformities should be noted and splinted. Radiographs of the knee, tibia/fibula, and ankle should be obtained as indicated. A careful neurovascular assessment should be performed, and an emergent fracture reduction should be completed if neurovascular deficits are present. A careful examination should be undertaken to detect open wounds. Open fractures require antibiotics and an emergent orthopedic consultation.
Tetanus vaccination should be updated, and appropriate antibiotics should be given in a timely manner. Some recommend antibiotics within 3 hours of the accident. [1]
In a study of compartment syndrome associated with tibial fracture, the odds of compartment syndrome increased by 1.67 per 10% increase in the ratio of fracture length to tibial length when all fractures were considered. Compartment syndrome was most likely to occur with plateau fractures, at 12% (shaft fractures, 3%; pilon fractures, 2%). [6]
In a study by Wuarin et al of development of compartment syndrome in 273 cases of tibial shaft fracture, acute compartment syndrome occurred in 31 (11.4%). Four factors were found to be statistically significant: polytrauma, closed fracture, associated tibial plateau or pilon fracture, and distance from the center of the tibial fracture to the talar dome ≥15 cm. [7]
The AO/OTA Fracture and Dislocation Classification can be used in diagnosing specific forms of long bone fractures. [8, 9, 10]
(See the fracture image below.)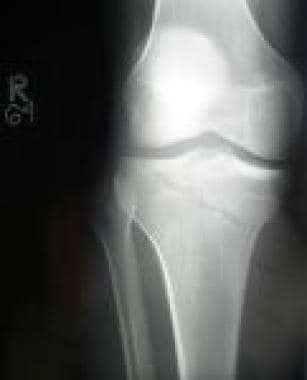 Shown is an intra-articular fracture of the medial condyle of the tibial plateau.
Schatzker et al proposed a classification system of condyle fractures based on the fracture pattern and fragment anatomy. This classification system divides these fractures into the following 6 types [11] :
Type I is a wedge or split fracture of the lateral aspect of the plateau, usually as a result of valgus and axial forces; the wedge fragment is not compressed (depressed), because the underlying cancellous bone is strong; this pattern is usually seen in younger patients

Type II is a lateral wedge or split fracture associated with compression; the mechanism of injury is similar to that of a type I fracture, but the underlying bone may be osteoporotic and unable to resist depression, or the force may have been greater.

Type III is a pure compression fracture of the lateral plateau; as a result of an axial force, the depression is usually located laterally or centrally, but it may involve any portion of the articular surface.

Type IV is a fracture that involves the medial plateau; as a result of either varus or axial compression forces, the pattern may be either split alone or split with compression; because this fracture involves the larger and stronger medial plateau, the forces causing this type are generally greater than those associated with types I, II, or III.

Type V includes split elements of both the medial and the lateral condyles and may include medial or lateral articular compression, usually as a result of a pure axial force occurring while the knee is in extension

Type VI is a complex, bicondylar fracture in which the condylar components separate from the diaphysis; depression and impaction of fracture fragments are the rule; this pattern results from high-energy trauma and diverse combinations of forces.
Epidemiology
Fractures of the tibia are the most common long bone fractures. The annual incidence of open fracture of long bones is estimated to be 11.5 per 100,000 persons, with 40% occurring in the lower limb. [12] The most common fracture of the lower limb occurs at the tibial diaphysis. [13] Isolated midshaft and proximal fibula fractures are uncommon.
Toddler fracture (distal spiral fracture of the tibia) is most common among children aged 9 months to 3 years. In most cases, uncomplicated toddler fractures of the tibia do not need an orthopedic surgeon's intervention or follow-up. In a study of the National Pediatric Trauma Registry for children and adolescents with compartment syndrome over a 51-month period, 133 cases were identified. Boys outnumbered girls 4 to 1, the median age of patients was 12 years, and peak fracture incidence was reported in patients aged 10-14 years. [14, 15, 16]
Tibial plateau fractures are common in the elderly population. Fractures in elderly patients may be complicated by osteoporosis, osteoarthritis, and medical comorbidities. [17]
Fracture of the tibia is the most common lower extremity fracture among children. It accounts for 10-15% of all pediatric fractures. [18]
What would you like to print?