Treatment
Prehospital Care
Address airway, breathing, and circulation.
Check and document neurovascular status.
Apply sterile dressing to open wounds.
Apply gentle traction to reduce gross deformities; splint the extremity.
Administer parenteral analgesics for an isolated extremity injury in a hemodynamically stable patient.
Emergency Department Care
Parenteral analgesia should be administered when appropriate. Although management of pain has improved, pain due to long bone fractures is notably undertreated in the emergency department. [16] Inpatient admission may be advised to observe development of compartment syndrome. Continuous compartment pressure monitoring in asymptomatic patients with tibia fractures is not recommended. [21]
Open fractures must be diagnosed and treated appropriately. Tetanus vaccination should be updated, and appropriate antibiotics should be given in a timely manner. Some recommend antibiotics within 3 hours of the accident. [1] This should involve antistaphylococcal coverage and consideration of an aminoglycoside for more severe wounds. Orthopedics should be consulted for emergent debridement and wound care. Fractures with tissue at risk for opening should be protected to prevent further morbidity. Open fractures require debridement and irrigation in the operating room.
According to one study, delay of the first operative procedure beyond the day of admission appears to be associated with a significantly increased probability of amputation in patients with open tibia fracture. In this study, data were analyzed from the Nationwide Inpatient Sample, 2003 to 2009. [22]
Compartment syndrome
Compartment syndrome can develop in fractures of the lower leg. [23, 24, 25, 26, 27]
Signs of compartment syndrome include crescendo symptoms, pain with passive movement of involved muscles, paresthesias, and pallor, and a very late finding is pulselessness. Increased compartment pressure is present during compartment syndrome; therefore, external palpation frequently aids in the diagnosis. However, a soft extremity on palpation does not rule out compartment syndrome.
Serial examinations should be performed on patients with high-risk injuries or patients with equivocal symptoms.
If compartment syndrome is suspected, obtain an emergent orthopedic consult and measure compartment pressures. Compartment syndrome must be treated promptly with an emergency surgical fasciotomy. If untreated, the increased compartment pressures can cause ischemia and necrosis of the structures within that facial compartment and permanent disability. [12, 28, 23, 24, 25]
Risk factors for compartment syndrome of the lower leg include tibial diaphysis fracture, soft-tissue injury, and crush injury. [12]
Open fractures in pediatric patients have a significantly increased risk of developing compartment syndrome. [12]
In one study, the authors ascertained whether all children under the age of 12 years with fractures of the tibia warranted admission because of the risk of acute compartment syndrome. The mean age of the patients was 5.8 years. According to the authors, patients who have minimally displaced tibial fractures, whose pain is adequately controlled, and who can safely be moved with parental supervision may be discharged from the emergency department. None of the children younger than 12 years developed acute compartment syndrome; however, the authors noted that certain features, such as a history of high-energy injury, displaced fractures, or coexisting fibular fractures, should raise concern that compartment syndrome may occur and, thus, admission and observation may be considered. [28]
Tibial plateau fracture
Immobilize nondisplaced fractures and have the patient remain nonweightbearing.
Obtain an orthopedic consultation for displaced (depressed) fractures, which require open reduction and internal fixation. Articular depression of greater than 3 mm may be considered for surgery.
In a study of 158 patients with 162 tibial plateau fractures, the overall rate of compartment syndrome was 11%. Tibial widening and femoral displacement were found to be significant associated factors. [26]
See the images of tibial plateau fractures below.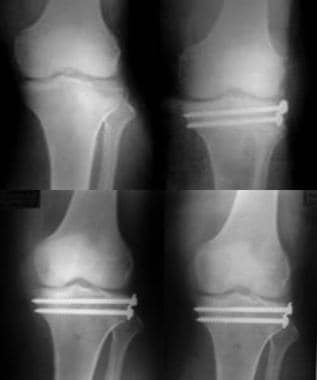 Type II tibial plateau fracture in a young active adult with good bone stock treated with percutaneous elevation and cannulated cancellous screw fixation without bone grafting.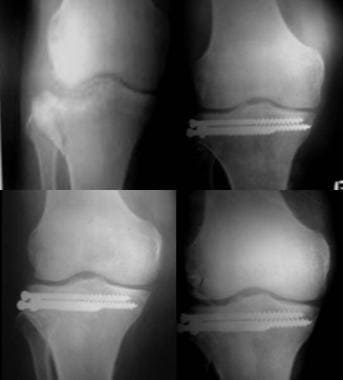 Type III tibial plateau fracture with central depression in an elderly person treated surgically using percutaneous elevation, bone grafting, and cancellous screw fixation.
Tibial eminence fracture
For nondisplaced fractures (and stable knee joint), immobilize the knee.
Obtain an orthopedic consultation for an unstable knee, or displaced fracture for possible surgical fixation.
Tibial tubercle fracture
For nondisplaced fractures, immobilize the knee.
Obtain an orthopedic consultation for a displaced fracture to consider open reduction and internal fixation.
In one study of patients with tibial tubercle fractures, mean age at surgery was 14.6 years, and the most common fracture reported was type III (50.6%). Compartment syndrome was present in 3.57% of cases. [29]
Proximal tibia fractures
Intra-articular fractures require reduction and internal fixation.
Other methods to surgically repair proximal tibia fractures include external fixation, plating, and intramedullary nailing.
Closed treatment involves reduction and the placement of a long leg cast. Intact extensor mechanisms can make it difficult to maintain good fracture alignment.
Tibial shaft fractures that are closed may be treated with cast immobilization if alignment is good or with intramedullary nailing.
Isolated midshaft or proximal fibula fracture
Immobilization in a long leg cast generally is not required. Recommend a few days without weightbearing activity until swelling resolves, followed by weightbearing activity as tolerated.
Short leg walking cast usually is not required; however, some orthopedists may prefer a short leg walking cast or cam walker with weight bearing.
Tibia and fibula stress fractures
The keystone of treating stress fractures is the temporary cessation of the offending activity.
Crutches may be used initially to allow the patient to be non–weight-bearing.
Consultations
Obtain emergent orthopedic consultation for open fractures. Consultation is also generally indicated for closed fractures.
Emergent consultation is needed in suspected compartment syndrome.
Advise patient to obtain orthopedic follow-up care of isolated fibula fractures.
Patients should see a primary care physician or be referred to an orthopedic surgeon within 1 week for further evaluation and treatment of isolated fibula fractures.
What would you like to print?