Workup
Imaging Studies
Plain-film radiographs of the hand or wrist should be obtained when a patient presents with a soft tissue injury suggestive of fracture or an occult foreign body. Of particular concern are lacerations from glass. Radiography is indicated in dislocation of a DIP joint to rule out fracture. In dislocation of an MCP joint, the posterior-anterior view shows marked widening of the joint. Sesamoid bones seen inside the joint space on radiographs are diagnostic of complex MCP joint dislocation.
MRI has been shown to be highly sensitive in detecting ruptured tendons. However, it does not have a role in emergent management of hand wounds.
Ultrasonography has a growing role in locating foreign bodies and in evaluating soft tissues (see the image below). It can be used to detect ruptured tendons and ulnar collateral ligament injuries to the thumb. Also, the dynamic function of tendons can be assessed noninvasively with ultrasonography. Ultrasound evaluation in the long axis with use of dynamic imaging allows visualization of the ulnar collateral ligament and adductor pollicis aponeurosis. Ultrasound has also been found to be accurate in diagnosing Stener lesions. [11, 12]
One prospective study found that high-resolution ultrasound (5-13 Mhz) is often superior to clinical diagnosis of many disorders, including ganglion cysts, tendinopathies, and retained foreign bodies. [13] However, it is less accurate with diagnosis of solid lesions. [13, 14]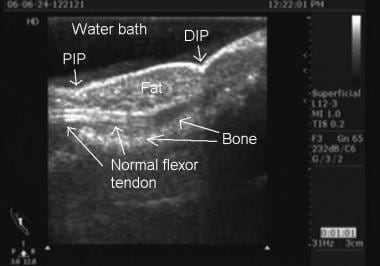 This image shows an ultrasound of the flexor tendon of a finger with the structures labeled. It was performed using a water bath with the water as the conduction agent. (Image courtesy of Dr. Christopher Moore and Dr. Michael Osborne.)
What would you like to print?