Overview
Practice Essentials
High-pressure injection injuries occur when a high-pressure injection device such as a paint or grease gun injects material into the operator. This injury most commonly occurs in the dominant hand and index finger. [1] However, cases involving the arms, feet, abdomen, and even cervical spine have been reported. [2, 3] Most injuries result from grease guns, paint sprayers, or diesel fuel injectors. [4] Often, the injury may initially appear insignificant or benign. Future disability may be hidden behind a small, punctuate sore on the finger. [5, 6] The clinical effects of the high-pressure injection injury depend upon a number of variables, including the pressures involved, chemical toxicity, and the quantity of material injected and its temperature. [7, 8, 9, 10, 11]
The injection typically occurs to the fingertip when the operator is trying to wipe clear a blocked nozzle or to the palm when the operator is attempting to steady the gun with a free hand during the testing or operation of equipment. The left hand (usually nondominant) is involved in about two thirds of cases. The most common site of injury is the index finger. The palm and long finger are the next most frequently injured. [12, 13]
The innocuous appearance of the wound may hide the severity of the injury. [14, 15, 16] With time, edema and intense pain develop and the digit may appear erythematous or cold.
Diagnosis and treatment
Emergency department care for high-pressure injection hand injuries includes the following:
Prescribe broad-spectrum prophylactic antibiotics.

Update tetanus and administer parenteral analgesics.

Splint the extremity and keep it elevated.

Some studies have suggested that steroids may be beneficial in selected cases, especially when an intense inflammatory response develops or treatment is delayed.
A high-pressure injection injury should be considered a surgical emergency. Immediate decompression and thorough cleansing of the offending material from the tissue is required to preserve optimal function. Emergent consultation with an experienced hand surgeon is required. Prompt surgical debridement optimizes tissue salvage. Diagnosis is clinical and based largely on patient history. However, secondary to the surgical nature of these injuries, routine preoperative evaluation may be initiated in the emergency department. Laboratory tests may include complete blood cell (CBC) count, electrolyte values and renal function, cardiography, and chest radiography. Radiographs may facilitate the surgical strategy by localizing subcutaneous air, debris, or unanticipated fractures. [17]
Initial treatment of high-pressure injection injury includes tetanus prophylaxis, broad-spectrum antibiotics, and consultation with a hand surgeon. Injections with air, gas, or small amounts of veterinary vaccines can usually be managed with observation and serial examinations if there is no concern about compartment syndrome. Injections with other liquid materials may require emergent surgical débridement, with the best results when the injury is treated within 6 hours. Wide surgical irrigation and debridement of necrotic tissues should be performed under general or regional anesthesia. Organic and caustic materials are associated with a higher amputation rate, and decreasing the time from injury to surgery improves the prognosis. [18]
Extravasation of the injected material may further jeopardize the limb. Prompt decompression and directed debridement of the nonviable tissue is an important strategy to prevent further tissue damage. Less-aggressive therapy may have a role in injection injuries with less irritating substances (eg, Freon). [19, 20] HPI injuries involving grease and paint are considered surgical emergencies, whereas HPI injuries with other substances require careful clinical evaluation, surgical intervention, or both. Clean water and air injuries may result in good functional outcomes with simple monitoring and conservative management. [21, 22]
A retrospective review of 19 high-pressure water-injection injuries of the hand reported that16% of patients developed infection and that 33% of patients without early debridement eventually required surgery, including debridement of a septic flexor tenosynovitis, fingertip amputation, and metacarpophalangeal disarticulation. The authors noted that high-pressure water-injection injuries warrant immediate medical attention, early antibiotics, and a low threshold for close observation or surgical debridement. [17]
(See the images below.)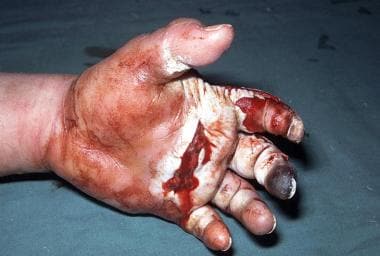 Photograph taken approximately 12 hours after high-pressure injection injury involving paint.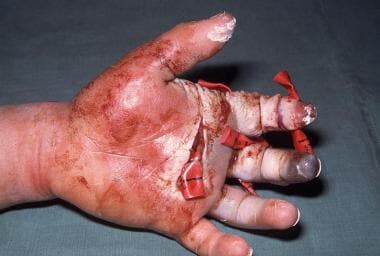 Photograph taken after urgent debridement following high-pressure injection injury involving paint.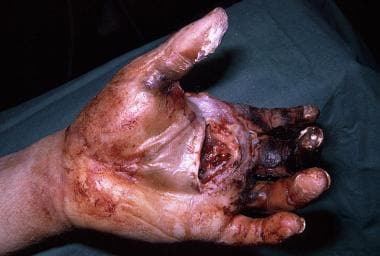 Photograph taken after urgent debridement following high-pressure injection injury involving paint.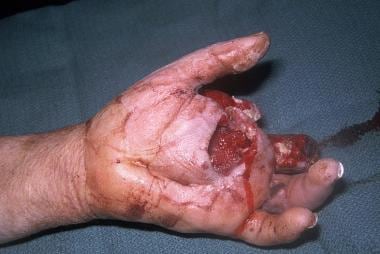 Debridement of necrotic index and middle digits following treatment of high-pressure injection injury involving paint.
Epidemiology
Overall incidence of amputation approaches 48%. [23] Morbidity is dependent to a large degree upon the material injected. Paint solvents appear to cause the greatest damage and result in amputation in 60-80% of the cases. Grease, the more common injectant, causes a less severe inflammatory response. Amputation is necessary in about 25% of these patients. [24]
These injuries are rare in women. High-pressure hand injuries usually occur in young men while working, most often to their nondominant index finger. The average age at time of injury in one large review was 35 years (range, 16-65 y). These injuries occurred to the nondominant hand 76% of the time. [24]
Prognosis
Factors that determine the severity of the injury include the following:
Type and viscosity of the material injected.

Time interval between injury and treatment.

Amount of material injected and velocity of the injectant.

Pressure of the appliance.

Anatomy and distensibility of the site of injection.

Presence of secondary infection.
Injection of irritating substances under high pressure has the potential for disability and amputation despite prompt aggressive therapy.
A case series of 8 patients with high-pressure injection injury to their hand who underwent surgical debridement, reported long-term outcomes that included the following [25] :
Reduced range of motion of the affected digit (50%).

Injury sequelae adversely affected activities of daily living (ADL) with an average QuickDASH score of 26.

Grip strength in the injured hand was reduced by an average of 35% in 6 out of 8 patients compared with the uninjured hand.

Sensation was also reduced in the affected digit in 7 out of 8 patients.

All patients suffered from some level of neuropathic pain and/or cold intolerance.
What would you like to print?