Workup
Laboratory Studies
Assess the patient's hemoglobin/hematocrit at baseline, and follow up with serial determinations if significant blood loss is suspected. Assess coagulopathy by determining the prothrombin time/international normalized ratio (INR) and platelet count if the patient's history suggests a bleeding disorder or liver disease.
Type and cross-match 2-4 units of packed red blood cells if the patient's history suggests significant blood loss.
Obtain an electrocardiogram in patients older than 45 years and in those with a history of cardiac ischemia or arrhythmia.
Pulse oximetry can be used to document arterial flow to a part that is incompletely amputated when clinical findings of arterial flow with Doppler ultrasonography suggest an absence of arterial perfusion. [13, 14]
Imaging Studies
Radiographs of the injured part should be performed as follows:
Obtain posteroanterior, lateral, and oblique radiographs of the amputated part and stump.

Carefully assess for radiopaque foreign bodies.

Comminution of the fracture implies a crush injury mechanism and is associated with soft-tissue trauma.

If the joint is destroyed at the level of amputation, perform arthrodesis (fusion); this results in loss of joint function.

If a crush injury is severe, a mosaic of fragments may preclude attempts at replantation.
See the images below.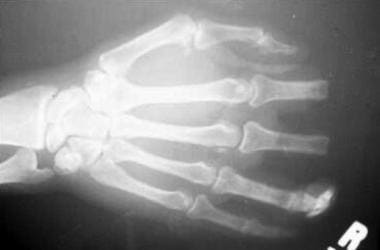 Radiologic appearance of a hand with 2-digit amputation.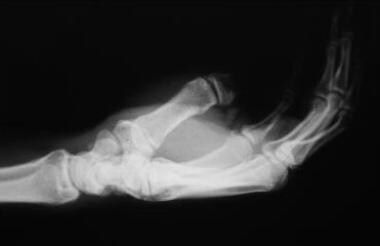 Radiologic appearance of a complete thumb amputation.
Obtain a chest radiograph if it is indicated by the patient's age or underlying lung or heart disease or if blunt or penetrating chest injury is suspected.
What would you like to print?