Workup
Imaging Studies
Routine radiographic evaluations are an essential component of shoulder evaluation in the ED. Perform a routine radiographic examination in every patient with suspected rotator cuff injury. Shoulder radiography should include anteroposterior, axillary, and lateral views. (See the images below.)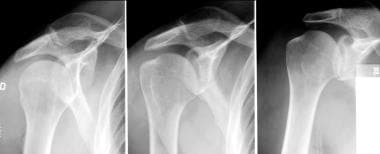 Normal plain radiograph of the shoulder in internal, external, and neutral positions.
A modified transscapular or supraspinatus outlet view is useful for surgical purposes. Radiographic changes are as follows [14, 15, 16] : subacromial sclerosis (ie, "eyebrow" sign), osteophyte formation, sclerosis and cystic changes in the greater tuberosity, and reduction of the acromiohumeral distance (< 7 mm). (Only the last 2 points were found to have 78% sensitivity and 98% specificity.)
Reserve advanced imaging modalities for suspected rotator tears with no improvement in symptoms, despite adequate therapy for 3-6 weeks.
Arthrography of the glenohumeral joint has been used to diagnose rotator cuff disease. [3] A complete tear is diagnosed when communication between the glenohumeral joint cavity and the bursae, either subacromial or subdeltoid, is evident. Partial tears are better evaluated with ultrasonography or MRI.
Ultrasonography is also used to evaluate rotator cuff disease. The 4 criteria for rotator cuff pathology are nonvisualization of the cuff, localized absence or focal nonvisualization, discontinuity, and focal abnormal echogenicity. Sensitivity and specificity are operator dependent and have been reported to be greater than 90%. [17, 1]
Magnetic resonance imaging (MRI) can reveal a great spectrum of rotator cuff disease from degeneration to partial or complete tears. MRI also can reveal soft tissue injuries. As a postoperative imaging modality, it has proven to be invaluable.
In a study of MRI, 2-dimensional MRA, and 3-dimensional isotropic MRA at 3-T to diagnose rotator cuff injuries, MRI appeared equivalent to MRA in the diagnosis of full- and partial-thickness tears, although there was a trend toward greater accuracy in the diagnosis of subscapularis tears with MRA. 3-T 3D isotropic MRA appeared equivalent to 3-T 2D MRA for all types of tears. [18]
In a study of diagnostic accuracy of ultrasonography, MRI, and MRA in characterizing full-thickness rotator cuff tears, overall sensitivity and specificity exceeded 0.90, whereas sensitivity was lower, at 0.67 to 0.83. [19]
What would you like to print?