Workup
Laboratory Studies
Laboratory studies are essential in the management of many forms of hemorrhagic shock. Baseline levels are determined frequently, but these infrequently change initial management after trauma.
Serial evaluations of the following can help guide ongoing therapy:
Prothrombin time and/or activated partial thromboplastin time

Urine output rate (can help guide adequacy of perfusion)

ABGs (levels reflect acid-base and perfusion status)
Lactate and base deficit are used at some centers to indicate the degree of metabolic debt. Clearance of these markers over time can reflect the adequacy of resuscitation.
Typed and cross-matched packed red blood cells should be ordered immediately based on clinical suspicion of hemorrhagic shock. Fresh frozen plasma and platelets may be required to correct or prevent coagulopathies that develop in severe hemorrhagic shock.
Imaging Studies
Cervical spine, chest, and pelvis radiographs are the standard screening images for severe trauma. Other radiographs may be indicated for orthopedic injuries.
Computed tomography (CT) can be used to image the appropriate region of suspected injury. CT scanning frequently is the method of choice for evaluating possible intra-abdominal and/or retroperitoneal sources of hemorrhage in stable patients (see the image below). Oral contrast material may not increase the diagnostic yield of abdominal CT scanning in blunt trauma. Scanning should not be delayed for administration of oral contrast material. [19]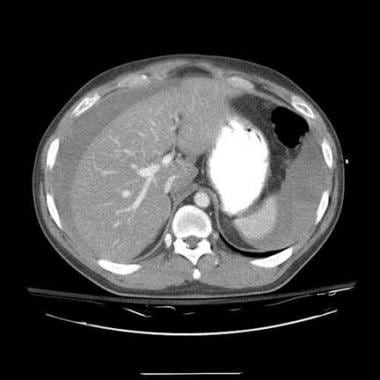 CT scan of a 26-year-old man after a motor vehicle crash shows a significant amount of intra-abdominal bleeding.
Bedside abdominal ultrasonography can be very useful for rapid detection of AAA and free intra-abdominal fluid. Thoracic ultrasonographic findings can immediately confirm hemothorax or pericardial tamponade.
Directed angiography may be diagnostic and therapeutic. Interventional radiologists have had good success achieving hemostasis in hemorrhage caused by a variety of vessels and organs.
Other Tests
An ECG can be useful for detecting dysrhythmias and cardiac sequelae of shock.
Tissue oximetry using near-infrared spectroscopy (NIRS) shows promise for continuous noninvasive measurement of perfusion in hemorrhagic shock and other conditions. [20]
ADAMTS 13, sP-Selectin, and HSP27 have been investigated as potential prognostic markers in patients with hemorrhagic shock. [21]
Procedures
Tube thoracostomy is necessary in significant hemothorax with or without pneumothorax.
Central venous access facilitates fluid resuscitation and monitoring of central venous pressure and is necessary if peripheral intravenous access is inadequate or impossible to obtain.
Diagnostic peritoneal lavage is used to detect intra-abdominal blood, fluid, and intestinal contents. It is sensitive but is not specific for abdominal injury. It is not used to evaluate the retroperitoneum, which can hold significant hemorrhage, and it does not identify the source of hemorrhage.
What would you like to print?