Overview
Practice Essentials
Because trauma is a multisystem disease, multiple injuries may be present in the trauma patient. The kidneys, the pelvocaliceal system, and the ureters constitute the upper GU tract. Adult kidneys are well protected by the rib cage and the vertebral column, but lateral forces can compress them between these structures, leading to injury. Sudden deceleration can cause avulsion injuries to the renal pedicle and the pelvocaliceal system. The most common causes of renal injury are blunt trauma and penetrating trauma. [1, 2, 3, 4] Other injuries often take priority over injuries to the genitourinary (GU) system and may initially interfere with or postpone a complete urologic assessment. Coordinated efforts between various services caring for the patient are crucial to ensure comprehensive care, and evaluation of the injured patient with possible GU trauma should not differ from that of other trauma patients. The protocols of the Advanced Trauma Life Support (ATLS) program of the American College of Surgeons should be followed to provide total patient care. [5, 6, 7]
(See the images below.)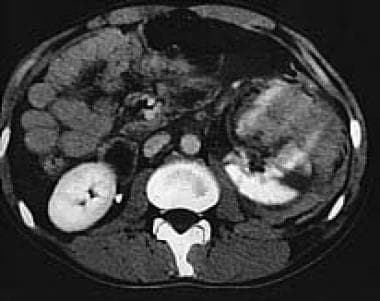 Ruptured left kidney.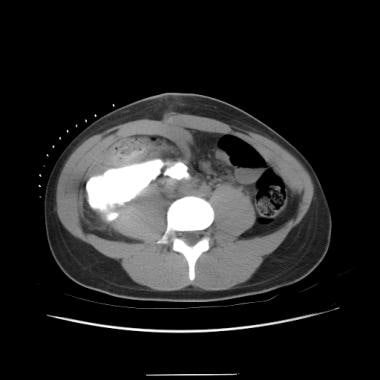 Contrast-filled urinoma.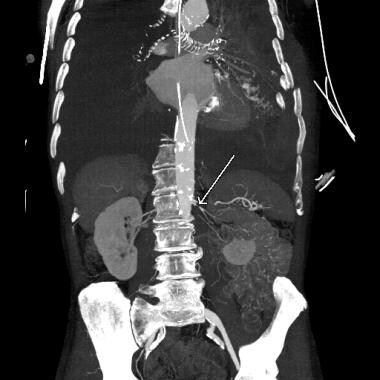 Avulsed left renal artery with thrombosis.
From 3 to 10% of patients with multiple trauma have GU involvement; 10-15% of trauma patients with abdominal injuries have GU involvement. Renal injuries constitute 45% of all GU injuries; ureteral injuries account for 6%.
Mortality from upper GU tract injuries is attributed primarily to other associated injuries; morbidity is 26%. Trauma is the leading cause of death among persons aged 1-40 years and is the third-ranked cause of mortality in all age groups.
According to the National Trauma Data Bank, most renal trauma in children is low grade, is blunt in nature, and occurs in children older than 5 years. Although most pediatric patients are treated conservatively, the rate of nephrectomy has been found to be 3 times higher at adult hospitals than at pediatric centers. Of reported injuries, 79% were found to be grade I, II, or III, and penetrating injuries accounted for less than 10% of all pediatric renal injuries. [8]
Only 6% of patients with GU trauma have ureteral injuries, probably due to the small size and mobility of the ureter, along with the protection provided by the psoas muscle posteriorly, the abdominal viscera anteriorly, and the vertebral column medially.
Findings
Renal trauma includes hemorrhage, urinoma, loss of function of kidney, pseudoaneurysm formation, arteriovenous fistula (rare), renal hypertension, and obstruction of collecting system and renal artery aneurysm (pseudo). Ureteral injury includes urinary extravasation, urinoma, infection and stricture formation leading to hydronephrosis.
Flank ecchymosis or mass indicates a retroperitoneal process but is not specific to renal injuries and rarely occurs acutely. The most important indicator of renal trauma is gross or microscopic hematuria. Absence of hematuria, although rare, does not exclude renal injury. Hematuria is absent in 5% of patients.
The presence of abdominal, visceral, solid organ, or vascular injury may indicate concomitant renal injury, as these injuries coexist with renal injury in 34% of patients with blunt trauma and in up to 80% of patients with penetrating trauma.
In suspected ureteral injury, physical examination is of minimal use except in diagnosis of associated injuries.
A rectal examination should be performed to help establish the presence or absence of a urethral injury before Foley catheter insertion. The examiner should look for a high-riding prostate, a rectal tear, a bony abnormality, or frank blood.
Computed tomography (CT) is preferred over intravenous pyelography (IVP) in patients with renal injuries because CT provides better anatomic and functional details, it has higher sensitivity, and it is associated with improved time to results. Multidetector CT scanners can provide even greater image resolution, along with the possibility of CT angiography of the kidneys. [9]
AAST renal and ureter injury scales
Grade of renal injury (based on CT findings) is depicted in the scale developed by the American Association for the Surgery of Trauma (AAST) (see below) [10, 11] :
Grade I: Subcapsular hematoma and/or parenchymal contusion without laceration.

Grade II: Perirenal hematoma confined to Gerota fascia; renal parenchymal laceration ≤1 cm depth without urinary extravasation.

Grade III: Renal parenchymal laceration >1 cm depth without collecting system rupture or urinary extravasation; any injury in the presence of a kidney vascular injury or active bleeding contained within Gerota fascia.

Grade IV: Parenchymal laceration extending into urinary collecting system with urinary extravasation; renal pelvis laceration and/or complete ureteropelvic disruption; segmental renal vein or artery injury; active bleeding beyond Gerota fascia into the retroperitoneum or peritoneum; segmental or complete kidney infarction(s) due to vessel thrombosis without active bleeding.

Grade V: Main renal artery or vein laceration or avulsion of hilum; devascularized kidney with active bleeding; shattered kidney with loss of identifiable parenchymal renal anatomy.
The AAST ureter injury scale is as follows [12, 11] :
Grade I: Hematoma - Contusion or hematoma without devascularization.

Grade II: Laceration - < 50% transection.

Grade III: Laceration - ≥50% transection.

Grade IV: Laceration - Complete transection with < 2cm devascularization.

Grade V: Laceration - Avulsion with >2cm of devascularization.
Treatment
Grade I, II, and III injuries are treated conservatively. Vital signs, hematocrit level, and progression of hematuria should be monitored. In most cases, patients heal without any intervention, but in rare cases, radiologic selective embolization is needed to control hematuria. A 60% success rate has been reported with grade IV injuries, with expectant treatment of extravasation if ureteral outflow has not been affected.
What would you like to print?