Workup
Laboratory Studies
Lab studies include the following:
Complete blood count (CBC) to obtain hematocrit level and platelet count

Prothrombin time (PT) and activated partial thromboplastin time (aPTT) to check for coagulopathy (may be unnecessary in young, otherwise healthy patients)

BUN and serum creatinine: Elevation of BUN without elevation in creatinine indicates urine reabsorption

Urinalysis to diagnose hematuria

Blood type and crossmatch
Imaging Studies
Use of diagnostic imaging techniques is crucial in functional and anatomic assessment of the injured and uninjured kidney.
Urologic imaging should be performed only when indicated, as persistent low yield occurs with imaging of patients with microscopic hematuria, patients with no associated injuries, and patients who are hemodynamically stable.
Indications for imaging include the following:
Microscopic hematuria with hemodynamic instability

Persistent microscopic hematuria (serial urine analysis)

Hemodynamic instability with history of significant deceleration mechanism
CT scan
CT scan is preferred over intravenous pyelography in renal injuries because of its superiority in providing anatomic and functional details, its higher sensitivity, and improved time to results with the advent of spiral CT techniques. Multidetector CT scanners offer even greater image resolution and enable CT angiography of the kidneys. [9, 14, 15, 16]
Grade of renal injury (based on CT findings) is depicted in the scale developed by the American Association for the Surgery of Trauma (see below) [10] :
Grade I: Subcapsular hematoma and/or parenchymal contusion without laceration.

Grade II: Perirenal hematoma confined to Gerota fascia; renal parenchymal laceration ≤1 cm depth without urinary extravasation.

Grade III: Renal parenchymal laceration >1 cm depth without collecting system rupture or urinary extravasation; any injury in the presence of a kidney vascular injury or active bleeding contained within Gerota fascia.

Grade IV: Parenchymal laceration extending into urinary collecting system with urinary extravasation; renal pelvis laceration and/or complete ureteropelvic disruption; segmental renal vein or artery injury; active bleeding beyond Gerota fascia into the retroperitoneum or peritoneum; segmental or complete kidney infarction(s) due to vessel thrombosis without active bleeding.

Grade V: Main renal artery or vein laceration or avulsion of hilum; devascularized kidney with active bleeding; shattered kidney with loss of identifiable parenchymal renal anatomy.
CT scanning allows visualization of the rest of the abdomen for detection of urinomas. Microscopic hematuria without hemodynamic instability or a significant mechanism is not an indication for CT scan in patients with blunt trauma. CT scan should be performed in stable patients only if there is a history of hypotension; gross hematuria; or penetrating abdominal, flank, or back injury. Renal pedicle thrombosis may present without hematuria, but associated injuries or findings usually mandate CT scan or laparotomy.
When collecting system injuries are assessed, many may not be detected on initial CT, which suggests the need for repeat imaging in patients with large perinephric hematomas. [17]
(See the image below.)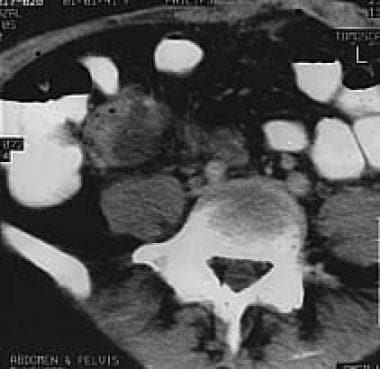 CT scan of abdomen and pelvis showing a urinoma.
Intravenous pyelography
IVP provides information about the function of both kidneys; when performed with a double dose, it is the preferred test in suspected ureteral injuries. In renal injuries, CT scanning is preferred because of the relatively poor sensitivity of IVP.
If CT scan is not readily available and renal imaging is required, IVP is a good imaging study to perform as a first-line modality. CT scan or laparotomy should follow an abnormal IVP finding.
Renal arteriography
Renal arteriography should be used when therapeutic embolization is needed and when regional blood flow to the affected kidney must be determined when exploration is being considered. [18]
Transcatheter arterial embolization (TAE) has proved to be an alternative therapeutic modality for blunt renal injury in children who have contrast medium extravasations in the kidney on angiography. [19]
Ultrasonography
Ultrasonography is inferior to CT in anatomic detail and sensitivity. It may be helpful in follow-up care of patients with renal injuries and for detection of urinomas. [20] Ultrasonography may also be useful in the acute setting of abdominal trauma as part of focused abdominal sonography in trauma (FAST) examination of the injured patient for detection of perirenal hematomas and other injuries to the abdomen.
Other modalities
Radionuclide scan is not helpful in diagnosis of renal injury but is useful in follow-up treatment related to function of the injured kidney.
Retrograde ureterography is useful for diagnosing ureteral injury, especially in cases of missed injury. It is invasive and requires a cystoscopy suite.
(See the image below.)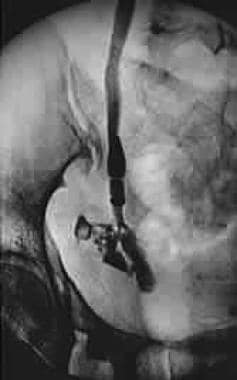 Retrograde urethrogram showing a leak in the distal right ureter with an element of obstruction.
What would you like to print?